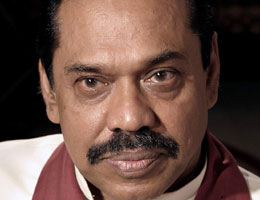 Govt. says not ruffled by decision
18 June 2011/By Susitha R. Fernando
A United States Federal Court has issued summons on President Mahinda Rajapaksa in connection with three civil cases filed under the Hague Convention claiming monetary damages under US Torture Victims Protection Act (TVPA) over alleged extra-judicial killings, the Justice Ministry sources said.

Sources said the government was not overly ruffled by this decision, and would not respond to it.
The civil cases against the Sri Lankan President were filed in Washington DC and the petitioners were seeking US$30 million as damages on six counts of violating the TVPA.
The summons on the President have been served on the Justice Ministry Secretary who is the Sri Lankan Central Authority in accordance with the provisions of The Hague Convention, to which the US and Sri Lanka are signatories.
The three cases were filed by the relatives of students Ragihar Manoharan, Premas Anandarajah, a humanitarian aid worker for Action against Hunger and T. Thavaraja. The petitioners claimed the students were victims of the extra judicial killings in Sri Lanka. They have cited President Mahinda Rajapaksa who is the Commander–in-Chief of Sri Lankan armed forces as the respondent.
The petitioners have alleged multiple violations of the TVPA under Sri Lankan President Rajapaksa's command responsibility for the extrajudicial killing of plaintiff Dr. Kasippillai Manoharan's son Ragihar, plaintiff Kalaiselvi Lavan's husband Premas Anandarajah, and four members of the Thevarajah family, who were relatives of plaintiff Jeyakumar Aiyathurai.Ragihar was one of the five students allegedly killed in January 2006 while Anandarajah was one of the 17 Action Against Hunger (ACF) staff members who were killed during the war in the East in June 2006. Jeyakumar's relatives were allegedly killed by an exploding shell that landed inside the safety bunker — situated around the No Fire Zone demarcated by the government during the last phases of the war — where the family was hiding from the artillery attacks by the Sri Lankan Army.
Under International Law, cases can be filed on the offences under war crimes, genocide, crimes against humanity and waging war against countries without reasonable cause.
The petitioners will argue the cases on the basis that universal jurisdiction under international law should also be recognized in civil suits founded on the Torture Victims Protection Act outlining torture or extrajudicial killings.
DM