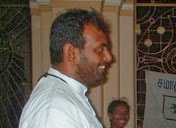 Fr. Praveen
The United States has called on the Government to ensure the due legal process is provided to human rights activists Ruki Fernando and Reverend Father Praveen after they were arrested under the Prevention of Terrorism Act (PTA) last night. The US Embassy in Colombo said that the US Government is concerned over the arrest of the two activists. It urged the Government to ensure the two activists have full access to a legal counsel.
Meanwhile the Free Media Movement condemned in the strongest terms the arrest of the two activists and called for their immediate release.
The FMM raised concerns over the arrest at a time when human rights issues in Sri Lanka are being discussed at the UN Human Rights Council currently meeting in Geneva.
The two human rights activists were arrested in Kilinochchi yesterday under the Prevention of Terrorism Act (PTA), police spokesman SSP Ajith Rohana said.
He said that the two activists were transferred to Vavuniya and were later to be brought to Colombo for further investigations.
The police spokesman said that the main charges were that they were attempting to create instability among communities and were also allegedly promoting separatism.
Fernando had informed his colleagues via SMS that he and Father Praveen were being questioned separately in Kilinochchi last night.
A lawyer who called the Killinochchi police station last night, was initially informed that no such persons were arrested by the Killinochchi police. However the police later said that two persons had been arrested by a specially appointed unit of the TID and were being held at a separate location in Killinochchi.
Another lawyer who spoke to the OIC of the Killinochchi police station had confirmed that Fernando and Father Praveen were taken in for questioning last night. (
Colombo Gazette
)