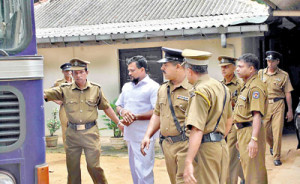 Mawanella-PS-Chairman
Mawanella PS Chairman (UPFA) K.G. Piyatissa leaves Kegalle High Court
on Tuesday after he was sentenced to death for killing a man in February 2003
Namini Wijedasa
Allegations of assault, rape and murder abound as the powers that be run amok with impunity The number of local government politicians breaking the law is rapidly increasing, with most of them belonging to the ruling United People's Freedom Alliance (UPFA). Last week alone, five incidents involving Pradeshiya Sabha (PS) politicians—four from the UPFA and one from the UNP—were reported by media. A criminal case related to a Deputy Minister was also taken up in court.
On Monday, the Attanagalle Magistrate's Court ordered the impounding of Deputy Petroleum Industries Minister Sarana Gunawardena's passport. Mr. Gunawardena is accused of having fired a gun into the air, issuing death threats and kidnapping a child in the village of Weerangula in 2009.
He did not appear in court as he was in Japan. His passport will be confiscated on his return. On Tuesday, the Kegalle High Court sentenced Mawanella PS Chairman (UPFA) K.G. Piyatissa to death, for killing a man in February 2003. Rambewa PS Opposition Leader (UNP) R.M. Chaminda Nalaka Saliyaratne was remanded by the Anuradhapura Chief Magistrate for allegedly swindling Rs. 1 million from a village death society fund.
Ridimaliyadda PS Chairman (UPFA) Karu Weeraratne was produced before the Mahiyangana Magistrate and enlarged on bail, for allegedly leading a group that assaulted and injured a 49-year-old woman and her 21-year-old daughter. On Wednesday, Embilipitiya PS Chairman (UPFA) M.K. Amila surrendered to court, after absconding for seven days, on charges of assaulting two police officers, and was remanded by the Embilipitiya Magistrate.
The Dehiattakandiya Magistrate issued notice on the Embilipitiya PS Deputy Chairman M.A. Chandrasiri for failing to appear in court. The UPFA member and five others are charged with driving 8,000 head of cattle into the Maduru Oya National Park, where it is illegal to graze.
"The number (of incidents) looks huge, because we have a large number of members," defended Economic Development Minister Basil Rajapaksa, National Organiser of the UPFA's largest constituent party, the Sri Lanka Freedom Party (SLFP).
Minister Rajapaksa also said more publicity was now given to politicians' misbehaviour. "Those days, we didn't have this much media," he commented. "Now, one crime looks like 16 crimes because 16 newspapers carry 16 stories!" "The population has grown and the number of politicians has grown," he continued. "Those days, we did not have provincial councillors, whereas we have them now. Also, it is more transparent and people are free to talk about these things. You have to compare."
Politicians are human beings with their own weaknesses, the Minister insisted. "They must control themselves," he admitted, "People must also watch them. They must see that they do not elect persons like them when they have the choice." "The party is taking action against most of these people," he said, "but they are not like government or appointed officials. They are chosen by the people, so more responsibility lies with the public."

Political-Crime-Final
The SLFP routinely holds disciplinary inquiries. Sometimes the charges are true, but others are politically motivated. "It is not possible to decide only on an allegation," Minister Rajapaksa said. "Even the President was in remand for almost six months for triple murder. We lost our mother at that time, but the first witness later said it was forced by another minister. That is what happens in politics."
"When it comes to nominations, we are definitely considering the allegations," he noted. "Even last time, we didn't give nominations to five very big Chairmen. We took action. We don't give nomination if there is an ongoing case. Whatever disciplinary measures the party might be taking, does not seem to have an impact on the behaviour of its local politicians, observers said. Last week's events were only the latest in a string of violations. Among the most serious incidents is the December 2011 killing of British Red Cross worker Khuram Shaikh at a resort in Tangalle.
Mr. Shaikh's wife, Victoria Tkacheva from Russia, was assaulted, raped and seriously injured. The main suspect is the Chairman of the UPFA-led Tangalle PS Sampath Chandra Pushpa Vidanapathirana. He and the other accused are out on bail. No charges have been filed and Mr. Khuram's family is waging an international campaign to have his killers convicted.
Politicians committed offences, some of them serious crimes, throughout last year. In June 2012, UPFA member of the Tangalle Urban Council Anjana Liyanage was among a large group arrested for allegedly raping a 14-year-old girl over a six-day period.
In July 2012, the Chairman of the UPFA-led Akuressa PS Saruwa Liyanage Sunil was arrested on charges of having raped a 14-year-old girl inside a lodge owned by him. Two more complaints were subsequently lodged against Mr. Sunil and his brother-in-law Priyanga Indunil.
In August, UNP Southern Provincial Councillor Krishantha Pushpakumara alias 'Raththaran' was arrested for
allegedly disrupting traffic policemen in the Thalgampala area in Yakkalamulla.
In September, the Karuwalagaswewa PS Chairman Neil Weerasinghe was given a warning by Court for unruly, drunken behaviour in public. In February 2013, an 18-year-old man was admitted to hospital after allegedly being assaulted by the same politician who was intoxicated at the time of the incident.
The incidents continued in 2013, even intensifying at times. Last month, a UPFA member of the Karandeniya PS was remanded for allegedly molesting a 36-year-old woman; and the Deputy Chairman of the Akurana PS was arrested for allegedly attacking another PS member.
In February, Moratuwa Deputy Mayor Sujith Pushpakumara (UPFA) was arrested by the Colombo Crime Division in connection with the killing of Egodauyana Sunanda Upananda Viharaya Chief Monk Ven. Metigahathenne Wimalawansa Thera. With only six months of the year gone, it appears that the trend will continue.
ST