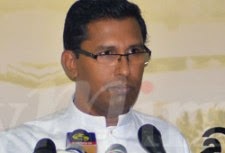 Warnasinghe ( DM photo)
UPFA Colombo district candidate Nishantha Sri Warnasinghe said today Northern Province Chief Minister C.V.Wigneswaran was more dangerous than LTTE leader Velupillai Prabhakaran. "Prabhakaran fought with weapons but Wigneswaran fights using the constitution, the law and international support to divide the country while enjoying his perks as Chief Minister,"he said. Mr. Warnasinghe, who is also the JHU Nataional Organizer ,expressed these views at an event held in Colombo where the 18-fold programme he had complied to counter Geneva was launched.
He said the Government should take steps to ban the Tamil National Alliance (TNA) which was attempting to divide the country while enjoying Government perks.
Mr. Warnasinghe said it was the responsibility of all Sri Lankans to get together and counter the international challenges and protect the peace we had won
DM