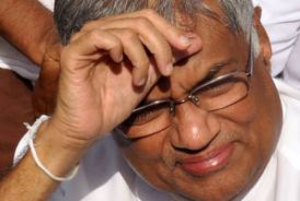 UNP leader Ranil: dificult times ahead
When compared to the PC polls in 2008, the UNP has lost 15 seats in the three provinces that went to the polls yesterday (Sept. 08).
The UNP, contesting alongside the SLMC, polled 250,732 votes, or 42.38 pc, to win 15 seats in the eastern provincial council at the previous election.
However, this time, the main opposition party managed only 74,901 votes, or 11.82 pc, and four seats.
At the EPC, the UNP has lost 11 seats.
The UPFA, in 2008, obtained 308,886 votes, or 52.25 pc, and 20 seats.
When compared with that performance, the ruling alliance claimed only 14 seats with 200,044 votes, or 31.58 pc.
The TNA did not contest the PC polls five years ago, but at yesterday's election, it won 11 seats by polling 193,827 votes, or 30.59 pc.
The JVP, which obtained 9,390 votes for one seat at the 2008 polls, failed to retain that seat.
However, its former MP Jayantha Wijesekara, contesting on the NFF ticket, emerged victorious with 9,522 votes in Trincomalee.
In Sabaragamuwa, the UNP previously polled 346,321 votes, or 40.53 pc, to win 17 seats.
However, yesterday it managed only 286,857 votes, or 34.73, and 14 seats.
On the other hand, the UPFA which polled 472,789 votes, or 55.34 pc, for 25 seats in 2008, fared better, obtaining 488,714 votes, or 59.18 pc, to collect 28 seats.
The JVP earlier had two seats in Sabaragamuwa PC with 19,068 votes, or 2.23 pc, but failed to secure a single seat for its 12,164 votes, or 1.47 pc.
The UNP, which won 12 seats after polling 205,248 votes, or 37.64 pc, in the north central province at the 2008 election, now has one seat less with 196,127 votes, or 35,47 pc.
The UPFA, which earlier had 20 seats with 307,457 votes, or 56.37, increased the tally to 21 seats with 338,552 votes, or 61.23 pc.