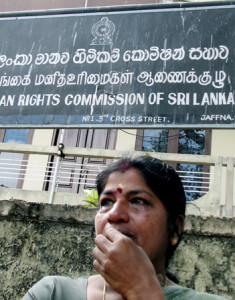 No independent commissions appointed
The government had not implemented the key recommendations of its very own Lessons Learnt and Reconciliation Commission(LLRC) yet and was fighting shy of facing the United Nations Human Rights Commission(UNHRC), the UNP said yesterday.
It was the Rajapaksa regime that had asked the UNHRC for time to implement the LLRC recommendations such as the re-establishment of independent public, police, elections, judicial service and bribery and corruption commissions, but over a year after the Commission had released its findings there had been no progress with regard to transparency and accountability, UNP MP Lakshman Kiriella said.

He said that the US House of Representatives while expressing support for reconstruction, resettlement and reconciliation, had asked the Sri Lankan government to build on the establishment of LLRC and its constructive recommendations on issues of paramount importance to the country in a credible, transparent and expeditious manner.
The USHouse of Representatives had also called for greater media freedom and for humanitarian organisations, journalists and international human rights groups to be given greater access to the war affected including rehabilitated ex-LTTE cadres and those detained, Kirialle noted.
He said that the US House of Representatives had also reminded the Rajapaksa regime that it needed to acknowledge the end of the war and go through a process of demilitarisation throughout the country while ensuring meaningful devolution of power.
by Zacki Jabbar
IS