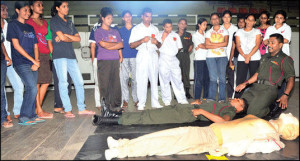 So called leadership training devours students welfare funds ?
The Inter University Students' Federation (IUSF) alleged yesterday the last two Mahapola instalments of the first year university students are to be withdrawn by the government, to allocate funds to pay off the military personnel involved in the Leadership Training Programme.

Addressing the media in Colombo, IUSF Convener, Sanjeewa Bandara alleged, "The government cannot bear the financial pressure they are under, thus have decided to withdraw from the students' Mahapola funds, to pay off the military personnel conducting the leadership training programmes."
He also charged, the government has reduced the number of government schools in the country, from over 9,000 to less than 4,000.
"The map indicating the distribution of schools in Sri Lanka shows that out of the 9,700 schools that were previously present in the country, there are now a mere 3,777. The government has taken away the dignity of education in the country, which is one of the reasons for the problems at examinations in the country. If these plots weren't being hatched by the government itself, none of these irregularities would be happening right now," he charged.

He added, financially secure developed schools had been given the task of 'watching over' rural schools, a 'scheme thought up by the government to use the money of the parents to pay for the maintenance of these schools.'
"Minister of Education, Bandula Gunawardane, or the President himself can take the credit for a new wing or a library at such a rural school, while the parents actually paid for it," Bandara claimed.
(LC)
CT