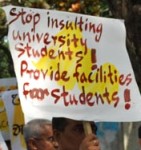 photos – http://vikalpa.org
SB is ideally fit to be in charge of Pig sty not as Higher education Minister
Dr. Prabhath Jayasinghe speaking at today's University academic staff public meeting in Colombo said, if Sri Lanka is to be made Asia's central educational Headquarter , the present higher education Minister , S B Dissanayake is the central figure militating against it as he is absolutely unfit and incompetent to hold the post of Higher education Minister.
Of course , we daresay he is most suitable to be a Manager of a Pigsty or a fowl pen. This Minister's conduct , intimidation and threats, manners and style of speaking all will stand him in good stead if he is put in charge of a pigsty or a fowl pen, Jayasinghe added.
The University teaching staff struggle had been dragged on for one and half months because of Govt.'s indifference and dilatory tactics . Today's meeting at the Public library auditorium organized by the University teaching staff was a tremendous success in much the same way as their other campaigns were on their salary issue. Lecturers, academic staff Doctors and Professors of all Universities Island wide took part . They began a massive march from the Colombo University to the Public library where the public meeting was held.
Lecturers of Horana Sri Palee Arts Institution who hitherto did not take part in the struggle also joined in today .
The procession conducted by the University Lecturers today was the first after 42 years . The first protest procession had been held by them during the period of Minister Iriyagolle against the University Act Bill.
It is reported that during the procession of the marchers , midway , President Rajapakse and Minister of higher education S B Dissanayake had followed them in a vehicle.
At the meeting following the procession , all lecturers and Professors representing every University across the entire Island made speeches.
Professor Amal Kumarage of the Moratuwa University addressing the meeting said, to produce an Engineer from a SL University , 8 lakhs rupees is being spent and to produce an Engineer via a foreign University it costs Rs. 80 lakhs. Only Rs. 20,000/- is spent to produce a graduate from SL open University, he noted.
It was pointed out that it will cost the Govt. Rs. 2000 million to raise the salaries of the University teaching staff two fold . But the Govt. is spending Rs. 900 million unnecessarily on a worthless army training for University students.
LEN