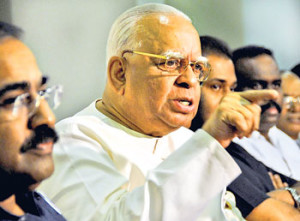 Can TNA live uo to the expectations?
Prof S. Ratnajeevan H. Hoole
Eating Commander Hathurusinghe's Palahaaram (Viands) while parents broke-down and worshipped the Commander
Tamils wonder aloud this Christmas when our earthly salvation from this criminal government would come. State arrogance showed through at the Governor's Cup Championships set for 19.12.2012 in Nallur. Promptly at 2pm leading citizens were assembled. The Governor casually arrived well after 3pm and the National Anthem was played in Sinhalese. Exactly two years ago, there was controversy over banning the anthem in Tamil. It was believed then that Markandu Sivalingam, Deputy Education Director, was shot at home in front of his daughter for protesting.
Jaffna's then GA admitted to the policy when she said "that she had no option but to carry out the orders." Douglas Devananda, ever the defender of government perniciousness, claimed singing in Sinhalese is established practice. In the ensuing flak, government denied banning Tamil singing. This episode revives memories of Sivalingam's terror.
The lesson on who our rulers are has been learnt. In Putur, EPDP paramilitary Mukuntan was arrested in the death and robbery of his Canadian Facebook fiancé who came for marriage. With the army and EPDP terrorizing Tamils after the university incidents, the Human Rights Commission Jaffna Office has received 43 complaints of TID arrests. Playing on Tamil emotions, the Security Detail for MP M. Sumanthiran who was actively working against the CJ's impeachment was suddenly withdrawn on the 20th. We feared there would be an attempt on his life as with the BASL President's. Sumanthiran protested, and the security was restored.
Intimidating Tamils, the TID had interrogated Teachers' Association President R. Rasakumaran for over three hours about lamp lighting in which he had no involvement. Welcome was the solidarity with Sinhalese when FUTA got him a lawyer. He went to Vavuniya in university transport with his Dean and a colleague. Many felt that the VC should have issued a press-statement objecting and gone with him if he was compelled.
Tamils in high positions having no status before our Sinhalese rulers, on Friday 21st a delegation of arrested students' parents and university heads and deans led by the VC had paid homage to the Jaffna Commander Maj. Gen. Mahinda Hathurusinghe who had summoned them. Newspapers reported that the EPDP VC had made clear that the Deans who had objected to such summons from the army, should attend without fail. At the Airbase parents clasped their palms together in worship and prostrated themselves before Hathurusinghe to no avail. Quipped a newspaper, the VC ate the Hathurusinghe's Palahaaram (viands) and returned.
Responding to the students' position that they would not resume classes until their colleagues are released, Hathurusinghe said that in that case the university would never reopen. He held forth on his indefensible position that the university was responsible for raising the Tigers. Recall the time when most academics belonged to UTHR and the Tigers shut UTHR down by murdering Rajani Thiranagama and threatening the students and the international group that had gathered for her funeral. Knowing the power of intellectuals, the Tigers thereafter kept a tight grip through stooges.
Mathematics Head, Prof. Srisatkunarajah, a mild man not given to histrionics, had reacted that it was the military that was creating Tigers because, he certified, the arrested science student was his student whom he knew personally and was not engaged in anything unlawful. He was brusquely interrupted by Hathurusinghe. Spokesman Keheliya Rambukwella said that the Tiger movement is prohibited and by lighting lamps to Tigers killed in war they had violated the law. Rambukwella's proposition is dubious. There surely is no law against a dead Tiger's son or friend lighting a lamp for him. It is the government that is creating Tigers. Reports from Madras (20.12.2012) that the Q-Branch surrounded a house of six Tamils and impounded laptops and bomb-making equipment assume significance.
The intervening Christmas holidays bought respite to the pressured university because even if the university reopened, the students would not come until all students are released. Through Christmas the university seemed peaceful and deserted.
So from where Tamil salvation? One possibility is Sinhalese overthrowing this criminal government. This seems increasingly doubtful as a section of the JVP is closely allied with the government. The old left which stood strongly by Tamils until they took up ministerial portfolios in 1970, continues with the UPFA. They are surely aware of the corruption of their cabinet colleagues and do not seem to be ashamed in any way. In a seeming reawakening of deadened conscience, Tissa Vitharana wrote this weekend against centralization and misuse of power and effectively said that the President cannot be trusted: "Those who promise to [do away with the executive presidency] after the next election cannot be trusted to do so once they acquire this tremendous power. We call upon the present President to do what he promised." Good luck with a President who wants many terms.
What then of salvation through the West or India? Regime change is possible if war crime inquiries happen. Says Roman Priest, Rev. Dr A. Santiagu, "In the last century Africans, Jews and Tamils have suffered genocide the most. Justice is owed to Tamils."
So long as the state pursues the CJ impeachment against all legal-judicial opinion and defies its own LLRC's recommendations, it invites external intervention. It is good that the TNA announced on Christmas Eve that it would find means to make submissions in Geneva. The TNA Hunger Strike in Jaffna on 21.12.2012 usefully brings the world's attention to the atrocities the public faces under the army.
However the TNA has a strong need to improve its image. This hunger strike from 7am to 3.30pm sounds like my routine day when I have a heavy breakfast of puttu/strings at 8 and, skipping western lunch, come home for rice and curry at 4. I hear grumblings that TNA MPs are rarely in their electorates and spend too much time in Colombo or Madras. The TNA has a responsibility to gather war crime evidence and organize witness lists for that day. Depositions would be far more profitable than hunger strikes that even supporters snigger at.
Can the public with information communicate with our TNA elders? I can exchange emails quickly only with Sumanthiran. Senathirajah and Saravanapavan must be emailed through third parties. Sampanthan has an email address but someone has to be found to tell him to read and reply any urgent request communication. There are few other MPs with whom witnesses or reporters can quickly communicate.
For other countries to act in our interests, we must make our interests theirs. For it was British PM Lord Palmerston who said: "We have no eternal allies, and we have no perpetual enemies. Our interests are eternal and perpetual, and those interests it is our duty to follow." Remember, in Iraq in 2006 U.S. troops executed at least 10 Iraqi civilians aged 5 months to 70 years, and then called in an airstrike to destroy evidence. According to Philip Alston, once U.N. Special Rapporteur, "the Human Rights Council does nothing to follow up when states ignore issues raised with them."
These nations may be hypocrites and our obstacles big. But they like legal and logical conformity with the record – hence the airstrike. We must exploit this respect for the record by drawing on these countries' public pronouncements and document the Mullaitivu killings. The TNA must produce records they cannot ignore. Is the TNA up to it?