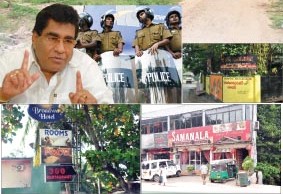 Dr Mervyn Silva, Brothel houses in the guise of restaurants and Owned by Singappuru Sarath any illegal meat is avaiable here and liquor is sold even on poya days with the blessings of the Kelaniya Police
Silva Desecrates Sacred Kelaniya By Nirmala Kannangara-
The sacred city of Kelaniya has become a haven for drug peddlers, extortionists, prostitution, intimidators and murderers, says Prasanna Ranaweera, Chairman, Kelaniya Pradeshiya Sabha.
According to Ranaweera, the main causes for the desecration in the electorates is the notorious Silva.

"This infamous Silva has not spared even school boys and have destroyed families with the introduction of drugs, gun culture and prostitution," alleged the Chairman.
Public Relations and Public Affairs Minister Mervyn Silva is accused of drug dealing, prostitution, extortion, intimidation and murders in Kelaniya electorate and the Kelaniya police station has come under severe criticism for their failure to take any action against those who were involved in these illegal activities.
Murderer, Drug dealer, Extortionist and Pimp
"With Mervyn Silva's appointment as the Kelaniya Organizer from nowhere, this sacred city where Gautama Buddha once placed His holy feet became the worst places to live in. Silva's motto is to make money even from a dead body. Although there is a pirith noola to his (Silva's) wrist, he is not only a murderer but also a kingpin in drug business who gives his fullest support for prostitutions and extort billions of rupees from the people. Although he tries to show that he is a practicing Buddhist, he is a shame to Buddhism," said Ranaweera.
After Mervyn Silva's removal from the Kelaniya Organizer's post following Pradeshiya Sabha member Hasitha Madawala's murder, religious leaders and government officers in the Kelaniya electorate have sent letters to President Mahinda Rajapaksa requesting that Economic Development Minister and Gampaha District Chief Organizer Basil Rajapaksa be appointed as the Kelaniya Organizer as well.
"This request from religious leaders and government officials came without any political pressure. People here suffered immensely at the hands of Mervyn Silva, his son Malaka and their goons. There was no room for any person who wanted to thrive in any legal way but instead injustice, thuggery and intimidation reigned in Kelaniya. Although Mervyn Silva is not the Kelaniya organizer now, still the police do not take any action against Silva's men who are engaged in illegal activities presuming Mervyn Silva would be appointed as the organizer once again. This is the state of the Kelaniya police. Any request made by us to the police in order to maintain law and order is not heeded as we are against Mervyn Silva. However they take note of any request made by drug peddlers, prostitutes, extortionists or intimidators as they are Silva loyalists," said Kelaniya Pradeshiya Sabha Member Chatura Dhanushka.
Dhanushka further queried as to why the Police have failed to obtain a statement from Mervyn Silva for the murder of Hasitha Madawala as Sarath Edirisuriya alias Singapore Sarath and the killer Saman Nishaman alias Star Grip Saman were with him on the day this killing took place.
"It was Minister Silva who appointed Singapore Sarath as his Parliamentary Affairs Secretary through the Parliamentary Affairs Ministry. This shows how close these two are. From the time 15 of us started opposing Silva for his illegal activities; Madawala came out openly and said that his life is in danger as there are threats from Minister Silva. On that backdrop it is surprising as to why the police are dragging their feet without questioning Silva over Madawala's death. In addition we want to know as to who has given the T81 firearm to Saman Nishaman to kill us? Are the police trying to cover this up? When there is so much evidence that Silva was engaged in murders, extortions, drug peddling, prostitutions and intimidation, why is the law so silent? Are they trying to tell us that Silva was not involved in any illegal activities but people have used his name to engage in such businesses without his knowledge – the way the Samurdhi Officer tied himself to a tree for failing to discharge his duties? This is ridiculous," said Dhanushka.
Meanwhile, Chairman Ranaweera raised concern as both Bribery Commission and the Criminal Investigation Department (CID) had failed to hold inquiries as to how Mervyn Silva got money to purchase properties worth of several billions of rupees when he has no other business ventures to earn money.
Where is the Bribery commission ?
"He started as a driver at the CWE, then worked for the Bandaranayake's at the Horagolla Walawwa as one of their domestics and entered into politics. He is now a minister in the present cabinet. But how did he earn billions of rupees to purchase properties and vehicles. He bought an apartment in Kollupitiya, a palatial house at Piththala Handiya in Colombo 3, another property at Nawala-Narahenpita road, a house at Park Road and a 150 acre coconut estate in the North Western Province. The vehicles that are parked at his residence are worth over Rs.200 million. Why don't they investigate? It is over one year that we have furnished these details to the Bribery Commission and CID. Either they are in deep slumber or not competent enough to hold investigations or may be that they are scared because Silva has political clout," said Ranaweera.
Describing the recently appointed learned committee by Silva as the best joke of the year, Ranaweera said that the honesty of the Chairman of this committee is questionable.
"The Chairman of this so-called learned committee is the Head of the Department of Buddhist and Pali University of Sri Lanka Ven. Dr Uthurawala Dhammarathana Thero. The three other members are Senior Lecturer Colombo University Nihal Hewage, Dr Ajith Dissanayake of the Kelaniya University and Ven. Ambogama Wimalagnana Thero of the Kelaniya University . The honesty of the Chairman of this learned committee is questionable. He has encroached three and a half acres of government land in Kelaniya and does not allow the provincial land Commissioner's Department to enter the premises to survey the land. When these officers came recently they were chased out. Although we do not know about the three other committee members, from the Chairman's past records and his behaviour we know as to how they are going to 'advise' Mervyn Silva how to discharge his duties 'honourably' in future," said Ranaweera.
According to Ranaweera, Mervyn's previous advisors are now in Welikada remand prison.
"Madawala murder suspects who are now in Welikada were Silva's former advisors. In addition Buddhi Ranasinghe who was arrested while trying to extort money from a businessman in Grandpass; Singapore Sarath, Chandimal, Namal Ratnayake, Thilakasiri alias Booru Thilak, Kudu Chamara, Haal Suda too were former advisors. Namal Ratnayake was a fellow prisoner with Malaka Silva during the time Malaka was put behind bars for assaulting UNP MP Sujeewa Serasinghe's brother. Since Malaka found out that Namal Ratnayake, who was accused of stealing Mawilaru money would be a good person for their illegal activities, he was introduced to Mervyn Silva and appointed as yet another coordinating secretary who is now engaged in money extortion," claimed Ranaweera.
Meanwhile, a leading businessman in Kiribathgoda on conditions of anonymity told The Sunday Leader how he was penalized by Mervyn Silva for failing to pay 'a monthly rental' towards the Pibidena Kelaniya Development Fund.
"Although several written messages were sent to me I ignored them knowing as to what would happen to the money. Then on a few occasions his goons came and threatened me and asked whether I would want to do business in Kiribathgoda or would like to close down all my businesses. When I told them clearly that I will not give a single cent from my hard earned money they threatened to kill me. I had to keep all these threats to my self as I knew that the police would not take any action against them instead would harass me. It was after that Mervyn himself made a big loss to my business which I do not want to highlight since the perpetrators would know my identity," said the businessman.
Ranaweera further alleged that most of the liquor shops in Kelaniya do not have licences but a large cutout of Silva in the shop is the valid license to carry out any illegal business. "If a large cutout of Silva is adorned in any business place, there is no necessity to obtain licenses. These cutouts keep the police out of bounds from these places. Liquor shops, brothel houses in the guise of restaurants can operate if the cutout is displayed. The Samanala Restaurant in Kiribathgoda is one such place where wild boar, venison and any other illegal meat is available. Had this been done by any other party not connected to Silva, police would have sealed the place and taken the owner into custody. Since the Kelaniya police officers received encroached lands in the area and are rewarded handsomely they do what Silva has asked them to do," said Ranaweera.
He also described how Mervyn collected millions of money from the people in the area to release cows who were to be killed.

"Mervyn boasted that he was going to buy 67 cows from the butcher in order to release them on President's birthday last year. Hence he ordered all the businessmen in the area to contribute money to release these cows and it was Singappuru Sarath that collected the money to the amount of Rs.1.25 million. Instead of buying the animals from the butcher he sent Booru Thilak to Ampara and Vavuniya areas to transport cows from there. Since Booru Thilak had the letter from Mervyn Silva, the police allowed him to bring more than 67 cows to Kelaniya. Then he invited the President and asked him to release 67 cows and the rest were sent to the butcher. Instead of releasing the cows from the butcher, the extra cows that were brought from North and East were sold to the butcher. This is the typical Mervyn – not the man that talks against the animal sacrifice in Munneswaran," alleged Ranaweera.