[North Korea leader Kim Jong-un in the middle]
A UN committee has called for the Security Council to refer North Korea to the International Criminal Court over its human rights record.
The human rights committee passed a motion seeking a probe into alleged crimes against humanity committed by the Pyongyang regime.
The motion still needs to be voted on by the General Assembly itself.
A groundbreaking UN report released in February revealed ordinary North Koreans faced "unspeakable atrocities".
The UN Commission of Inquiry detailed wide-ranging abuses in North Korea after hearing evidence of torture, political repression and other crimes.
It led to Tuesday's non-binding vote, which was passed with 111 countries in favour and 19 against, with 55 abstentions.
China and Russia, which hold veto power on the Security Council, voted against the motion.
'Disappeared'
The resolution also condemned North Korea for its poor human rights record, and urged the Security Council to consider targeted sanctions against those responsible for the crimes.
Michael Kirby, who chaired the report, described the move as "an important step in the defence of human rights".
"One of the only ways in which the International Criminal Court can secure jurisdiction is by referral by the Security Council. That is the step that has been put in train by the big vote in New York," he said.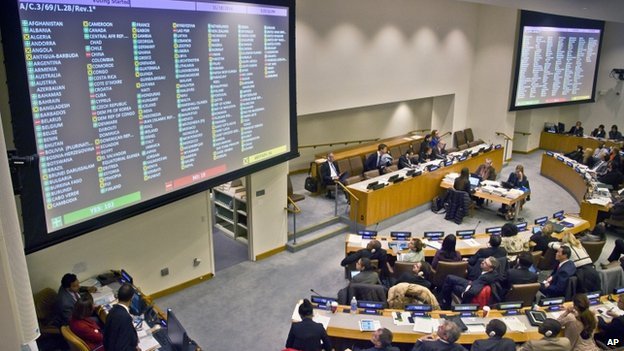 Choe Myong-nam, a North Korean official in charge of UN affairs and human rights, speaks during a meeting of the UN General Assembly human rights committee on 18 November 2014 North Korea's Choe Myong-nam criticised the motion
The General Assembly is to vote on the motion in coming weeks.
Diplomats say, however, that long-time ally China would probably use its veto to block the Security Council from referring the case to the ICC.
The UN report said North Korea's human rights situation "exceeds all others in duration, intensity and horror".
It said those accused of political crimes were "disappeared" to prison camps, where they were subject to "deliberate starvation, forced labour, executions, torture, rape and the denial of reproductive rights enforced through punishment, forced abortion and infanticide".
The report, based on interviews with North Korean defectors, estimated that "hundreds of thousands of political prisoners have perished in these camps over the past five decades".
line
From the report:
Former inmate Jeong Kwang-il told the UN panel he was given so little food during 10 months in a detention centre that he dropped in weight from 75kg to 36kg (5st 9lb). He also described a technique referred to as 'pigeon torture' to force confessions where the hands are handcuffed behind the back.
"Then they hang you so you would not be able to stand or sit," he said.
"If you are hung like that for three days, four days, you urinate, you defecate, you are totally dehydrated… [it] was so painful that I felt it was better to die."
UN North Korea report main findings
line
It included an account of a woman forced to drown her own baby, children imprisoned from birth and starved, and families tortured for watching a foreign soap opera.
North Korea refused to co-operate with the UN report and rejected its conclusions.
Speaking ahead of the vote, a North Korean foreign ministry official warned the committee of the possibility of further nuclear tests.
Penalising North Korea over human rights "is compelling us not to refrain any further from conducting nuclear tests", Choe Myong-nam said.
North Korea has conducted three nuclear tests in the past. International talks aimed at ending its nuclear ambitions have been stalled for years.
[Original Caption: North Korea: UN moves closer to ICC human rights probe]
BBC