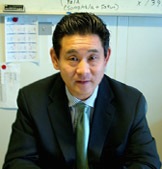 Den Hitoki
UN blundered
The United Nations' team leader for Political Affairs of the Asia-Pacific Division, Hitoki Den, regretted withdrawing UN officials from the war-torn areas in the Vanni region when the war was in progress. Den expressed his dismay over the decision by the UN officials to withdraw from the war-torn area when he met Bishop of Jaffna, Thomas Savuntharanayagam, in Jaffna yesterday.
Bishop Savuntharanayagam, explaining the current state of affairs in Jaffna, pointed out to the senior official that the UN had made a big blunder by withdrawing its staff from the Vanni in 2009.

The Bishop told Den, the UN could have played an important role in preventing the loss of human lives at the final stages of the war.
Responding to the Jaffna Bishop, Den expressed his dismay over the UN's withdrawal from the Vanni and said it was an unfortunate decision.
He assured, in future, the UN would not make the same error as what the world body did in 2009.
The Jaffna Bishop also urged the official that the UN should play an effective role in finding a political solution to the country's ethnic crisis.

Replying to the Bishop, Den said the UN hoped the Sri Lankan problem would be settled in year 2013 and that Sri Lanka has a good potential to transform itself into an economically healthy country in the region.
The senior UN official toured the areas where the development activities are taking place in the peninsula and met the relevant officials to appraise the progress made in the post-war reconstruction activities.