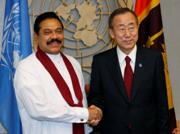 United Nations chief Ban Ki-moon, in a report to the UN Security Council, has said that he encouraged Sri Lanka to cooperate with the Office of the High Commissioner for Human Rights on implementing the recommendations of the LLRC.

He has said that he also welcomed the UN Human Rights Council's resolution calling on Sri Lanka to implement the LLRC recommendations.
The UN secretary general has welcomed the fact that in Sri Lanka, security clearances are no longer required for movement by humanitarian actors in the Northern Province.
Excerpts of the report say,
I also welcome the decision of the Council, in its decision 19/2, to call upon Sri Lanka to implement the constructive recommendations contained in the report of the Lessons Learnt and Reconciliation Commission and to take all additional steps necessary to fulfill its relevant legal obligations and commitment to initiate credible and independent actions to ensure justice, equity, accountability and reconciliation for all Sri Lankans. I encourage Sri Lanka to cooperate with OHCHR and the Human Rights Council's special procedures in this regard.
I also welcome the fact that in Sri Lanka, security clearances are no longer required for movement by humanitarian actors in the Northern Province.
SLM