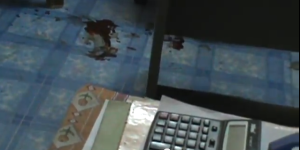 Blood marks from the attack
The Killinochchi office of the 'Udayan' newspaper published in Jaffna has been attacked by an unknown group today (3rd) say reports.

Four persons preparing newspapers to be distributed have been injured in the attack carried out early morning. Two of them have been admitted to Killinochchi Hospital. Equipment including the computer in the office has been destroyed.
On several occasions 'Udayan' news paper offices and distributing agents of the news paper were attacked but the police failed to identify any suspects
– Sri Lanka Mirror