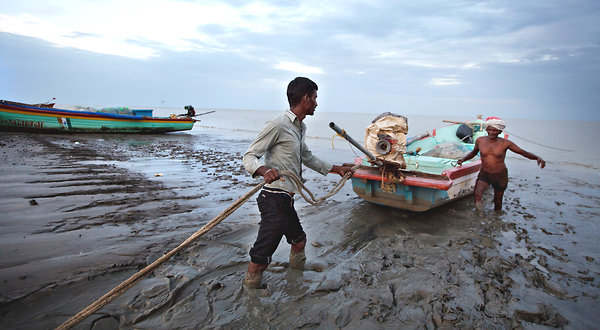 Embarking from Vellapallam, India.
By JIM YARDLEY
VELLAPALLAM, India — Drifting on the strait between India and
Sri Lanka
, an Indian fisherman named Sakthivel cowered in his boat. A Sri Lankan naval officer, who took the man's photograph, delivered a warning: If we find you in Sri Lankan waters again, you will never leave.
In Vellapallam, the dispute between India and Sri Lanka is deeply personal, because fishing is practically the only livelihood available.
Returning to this Indian fishing village, Sakthivel quickly sold his boat and swore off fishing.
He told friends that he was too frightened to return to the sea. But, uneducated and jobless, he knew only fishing. Then his first child was born. So he borrowed money, bought a new boat and again set out toward Sri Lanka, and never returned. He has been missing for almost a year.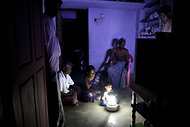 Maheshwari, center, said her husband disappeared
during a fishing trip almost a year ago.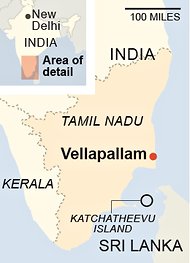 "Now my husband is gone," said his wife, Maheshwari, 21, who like most people in this village uses a single name. "How can I manage?"
At the bottom of the Indian subcontinent, a fishing war is straining relations between India and Sri Lanka as Indian fishermen, often poor and desperate, regularly cross into Sri Lankan waters and run afoul of the Sri Lankan Navy. Figures differ, but according to one report at least 100 Indian fishermen have been killed and 350 seriously injured in recent years — another example of the
volatility of maritime issues in Asia
.
The dispute is rooted in a complicated blend of local factors: the steady depletion of fish stocks, partly because of overfishing by Indian trawlers; the aftermath of the 2004 tsunami, which saw relief funds partly used to expand the Indian fishing fleet even as fish populations declined; and the end
of the long Sri Lankan civil war
in 2009, which has meant the return of the nation's fishing boats to waters once plied almost exclusively by Indians.
The dispute is intensified by history and proximity. At the closest point, the two countries are separated by barely 10 nautical miles, even as both sides are bound by ethnicity. Tamils dominate India's southern state of Tamil Nadu and have close cultural ties to Tamils in Sri Lanka, even providing support to Tamil rebels or accepting refugees during the fighting that ended with a government victory.
The postwar tensions remain in Tamil Nadu. The state's chief minister, Jayalalithaa, recently called on India's military to stop joint exercises with the Sri Lankan military. This week, she
suspended a bureaucrat
who allowed a Sri Lankan school to play a soccer match in the state, and on Monday protesters confronted pilgrims from Sri Lanka who had come to Tamil Nadu for a religious event.
Here in Vellapallam, the fishing dispute is deeply personal, since fishing is practically the only livelihood available. When the village was devastated by the 2004 tsunami, relief money was used to build concrete houses for families or to help finance new fishing boats. Nearly all of the village fishermen use small, motorized boats rather than the big trawlers docked at other nearby towns. For many years, fishermen say, they stayed close to the Indian coast, but they have gradually pushed farther out to sea as fish populations have declined.
As they have gotten closer to Sri Lankan waters, or crossed into them, fishermen say, the Sri Lankan Navy is often waiting. One fisherman, a wiry, wet-eyed man named Pakkirisamy, pulled off his shirt to show bruises and welts on his back. He said Sri Lankan naval officers beat him last month with steel rods and heavy ropes. He said they dumped his fuel in the sea and ordered him to return to India. He rigged a sail and arrived eight hours later.
It is a common story. Other fishermen described their equipment being confiscated, their cellphones stolen and their iceboxes of fish seized. Several described being attacked by Sri Lankan sailors even as a bilateral agreement between the two countries prohibits such treatment. Once, they said, Sri Lankan naval ships only harassed the bigger trawlers, but now they were going after small boats, too.
"This is risky work," said a fisherman named Dhanabal. "But we don't have any other skills. We are illiterate. We are poor."
The question of maritime boundaries is a touchy one in Tamil Nadu. In the 1970s, India and Sri Lanka agreed on a maritime boundary in which India ceded to Sri Lanka an island called Katchatheevu and bartered away the surrounding fishing rights. Today, many fishermen in Tamil Nadu, as well as the state's elected leaders, want to reclaim the island and the fishing rights as part of what they consider their heritage.
During the Sri Lankan civil war, Indian fishing boats faced risks and, occasionally, live fire from Sri Lankan gunboats. More often, though, the Sri Lankan Navy was distracted by the war, allowing Indian boats to operate freely and with little competition, since Sri Lanka's fishing fleet was often grounded by the conflict.
Now, though, Sri Lankan fishermen are returning to the sea and have complained of poaching and overfishing by Indians — especially the extensive Indian use of bottom trawlers and monofilament nylon nets, each banned in Sri Lanka. In February 2011, Sri Lankan fishermen
formed a flotilla
and captured 18 Indian trawlers and 112 fishermen before releasing the boats under government pressure.
"Most of the natural resources in the sea have been demolished and ruined by them," said S. Thavarthnam, president of the Northern Province Fishermen Association, a Sri Lankan group. "Our future has been destroyed by them."
Sugeeswara Senadhira, consul general at the Sri Lankan Embassy in New Delhi, denied that naval vessels were attacking Indian fishing boats, describing such assertions as "concocted stories." He blamed Indian boats for illegally crossing the international boundary. "They cannot fish around the island," Mr. Senadhira said.
V. Vivekanandan, a longtime advocate for Indian fishermen who has closely studied the dispute, said that diplomatic efforts had mostly stalled and that regional fishing management guidelines were needed. He said the number of Indian fishing boats and trawlers had jumped significantly, partly because of relief funds made available after the tsunami. He called for a regional commission, with representatives from both countries, to manage the dwindling fishing resources and to adjudicate disputes.
"There's not enough fish," Mr. Vivekanandan said. "There has been a huge increase in the fishing capacity, which contributes to a lower catch per boat."
In Vellapallam, the dwindling catch is a threat to the survival of fishing families. Nearly all the fishermen are uneducated; until recently, the village school ended at fifth grade. For Maheshwari, the young mother whose husband has been missing for the past year, her only income is now a daily stipend of 250 rupees, or $4.50, from the government. Depressed and hopeless, she said she had tried to commit suicide.
Another woman, Rukumani, lost her husband two years ago after he was killed in what she said was a clash with Sri Lankan sailors. He had been harassed but kept going out to sea.
"There is no other job," she said. "If he didn't go, the family would have no food. He would say, 'How else will we eat?' "