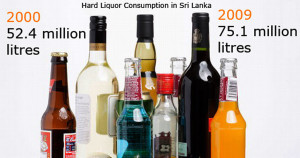 Ethyl alcohol:sold to Liquor manufactuers
Customs have been ordered by the Treasury to halt investigations into nine dummy companies that imported ethyl alcohol for industrial purposes but sold it surreptitiously to liquor manufacturers.
The revenue loss during the past two years due to this racket, a senior Customs official who investigated the matter said, was more than one billion rupees. Speaking on grounds of anonymity since Customs investigators are not expected to talk to the media, he said the companies were linked to a powerful politician.

Customs Director General Neville Gunawardena declined to comment on the matter. The order came as one of the factories, located at Gampaha, was sealed by Customs investigators. The company, which had obtained Board of Investment approval, had imported 260,000 litres of ethyl alcohol in the past two years ostensibly to manufacture cosmetics and food items. Last month alone, the total import has been 20,000 litres.
Sanath Fernando, Superintendent of Customs has said in a report to the Director General that the revenue loss would exceed one billion rupees. His report has been supplemented by the Industrial Technological Institute which has confirmed that the company in question is not sufficiently equipped to undertake either the production of cosmetics or food processing on a large scale. Only a drier and an extracting machine have been found in the premises, according to the report. Moreover, only six employees have been working in the so-called export oriented factory.
Investigations have revealed that no quantity of ethyl alcohol has been used in any of their products.
The latest order from the Treasury comes a month after Treasury Secretary P. B. Jayasundara instructed the Customs Chief to disband the Revenue Task Force (RTF). The order followed a standoff between the RTF officers and some politically-connected passengers who had arrived on a flight from Chennai
By Chris Kamalendran/ ST