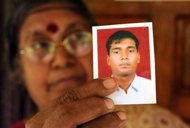 Devi Selvaratnam holds up a photograph of her son Sivakajan
Mel Gunasekera | AFP
Two and a half years after the end of Sri Lanka's bloody ethnic conflict, hundreds of families displaced by the war are still engaged in a fraught, exhausting search for missing children. Hundreds of thousands of ethnic Tamil civilians were caught up in the chaos of the military's ferocious final assault on cornered Tamil Tiger rebels in the jungles of northeast Sri Lanka in April and May 2009.

As the offensive intensified, Usha Devi Selvaratnam said goodbye to her teenage son, Sivakajan, having sold a gold chain to buy him passage on a rebel-controlled vessel bound for the relative safety of the northern Jaffna peninsula.
She never saw him again.
"There is no trace of him… just a big hole in my heart," she told AFP in Vavuniya where huge numbers of refugees were interned in the months following the end of the war.
Sivakajan left home with just a backpack, containing clothes, identification papers, as well as textbooks and school attendance records to prove that he was not a fighter with the rebel Liberation Tigers of Tamil Eelam (LTTE).
Usha heard that her son had been taken in for questioning by the military with other passengers when the boat docked in Jaffna. But since then, nothing, despite countless requests to the authorities for information.
"We want to know what happened to our children. I believe my son is still alive. If he died, I need proof. I think all families with missing children have a right to know, to bury the past, to enjoy freedom after war," she said.
Uncovering the fate of the missing like Sivakajan is extremely complex.
Some parents fear their teenage children may have been picked up by the LTTE and forced to fight in the rebels' final stand.
Others believe they are being held by the authorities or that they managed to escape overseas but have been unable to contact their families.
In the case of younger children, there are concerns they may have fallen foul of traffickers or even been adopted by families unwilling to give them up.
The underlying fear is that they were simply killed in the final offensive that the United Nations estimates cost up to 40,000 civilian lives.
"Tracing missing children is a very sensitive issue," said Brigadier S. Galgamuwa, a consultant for the Vavuniya-based Family Tracing and Reunification Unit.
Run by the government with assistance from the UN Children's Fund (UNICEF), the unit is currently trying to trace 370 boys and 327 girls who have been reported missing since the conflict ended.
Officials acknowledge that the actual number of missing children is probably far higher, with most cases not being formally registered.
So far 49 children have been traced by the unit and contacts re-established with their parents and relatives.
But the work has been hampered by a lack of reliable documentation, especially relating to the movement of families in the final, chaotic weeks of the fighting.
"It is likely that some of the children reported as missing may actually have died in the conflict — the knowledge of which may help to bring some kind of closure to the families," said UNICEF child protection specialist Saji Thomas.
However, confirming the fate of those on the list is "very time consuming" and requires input from multiple sources including health officials and law enforcement officers, Thomas said.
In some cases, the period of separation has been so long that children do not even recognise their parents or other relatives.
"In these instances, government probation officers intervene to help build trust between the children and their care givers so that they are comfortable enough to return to their families," Thomas said.
For some like 19-year-old Kaushy, who was rescued by the military from the LTTE-run orphanage where she grew up in northern Mullattivu, there are no relatives to be reunited with.
"I have no family. The only families I've seen are in Hindi films," she told AFP as she watched other orphans at the Don Bosco children's home in Vavuniya play hopscotch in the garden.
Sister Pettilda Fernando, who runs the home, said many orphans like Kaushy had been "brainwashed" by their LTTE minders, who co-opted many to fight in the rebels' ranks or train as suicide bombers.
Erashakumar, 19, says the only father figure for most orphans like herself was LTTE supremo Velupillai Prabhakaran, who was killed in the final days of the military victory over the separatists.
"People say uncle (Prabhakaran) died fighting. Yes, we miss him," Erashakumar said.
The government has published pictures of the orphans in the Tamil press, but nobody has come forward to claim the children.
"They may never trace their families. But they are also God's children. They need love and understanding," said Fernando
AFP