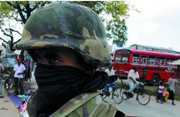 The chairman of the Kaaraitheevu Divisional Council (Piratheasa Chapai) who was elected on the ticket of Tamil National Alliance (TNA) to the civic council, has been threatened in Sinhala by telephone on Thursday, according to a complaint made at Chammaanthu'rai Police station, sources in Ampaa'rai said.
He would have to face serious consequences if he failed to contest on Mahinda Rajapaksa's ruling United Peoples Freedom Alliance (UPFA) in the forthcoming election to the Eastern Provincial Council, which is expected to be held in September this year, the caller had said 'inviting' him for a meeting to the SL military camp, news sources in Ampaa'rai said.
"It is the President Mahinda Rajapaksa, who is feeding the country and no one would be allowed to work against him," the caller has threatened Mr Rasiah.
Giving the number of the caller to the Police, the TNA politician has said that the caller had threatened him that he should contest in UPFA ticket if he ever wished to contest in the provincial elections.
When Rasiah had asked the anonymous caller the meaning of democracy. The Sinala-speaking anonymous person had then threatened him not to talk about democracy.
That person had told Rasiah that according to the police complaint by Rasiah.
The anonymous caller, who had then asked Rasiah to come to Sarathcom army camp, also said he would be prepared to meet him personally at 'proper time' when Rasiah asked him to come straight to him and speak instead of issuing threats over phone.
Selliah Rasiah has also made complaints to the Kalmunai Regional Office of the Human Rights Commission of Sri Lanka and also to the General Secretary of the Tamil National Alliance regarding the threat to his life, news sources in Ampaa'rai said.
TN