By Chris Kamalendran
A Tamil National Alliance (TNA) Member of Parliament has called on the Inspector General of Police to conduct an impartial probe on a raid carried out on his office in Kilinochchi by the Terrorism Investigation Division (TID), where they claim to have recovered explosives, pornographic CDs and condoms.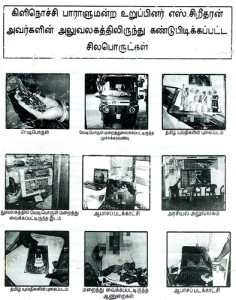 The leaflet that was distributed in Kilinochchi town
Sivagnam Shritharan, dismissing the claims by the police, told the Sunday Times he was calling for an impartial probe, as he believes that the motive for making false allegations was to get his office closed down.
The raid on the TNA office was carried out on January 12 by about 20 officials, following the arrest of a three-wheeler driver in Jaffna, with low density explosives, who had reportedly provided information.
Later, the three-wheeler driver was released, but TNA Kilinochchi District Coordinator Arunaslam Welamahalithan and the MP's Private Secretary Ponnambalam Lechchmikanthan were arrested.
Mr. Lechchmikanthan, before his arrest, lodged a complaint with the Human Rights Commission (HRC) explaining the events about the raid.
He said in his complaint that he was in his office at the time of the raid, when about 20 armed men, along with some cameramen, arrived at the office.
On requesting them to disclose their identity, they claimed they were from the TID, with one of them producing his Identity Card.He said that the three-wheeler driver arrested earlier, was also brought with them and taken to the storeroom in the office, where they claimed to have found the explosives.
Mr. Lechmikanthan said the TID officers showed him a shopping bag, claiming they contained explosives, but he had denied the existence of explosives in the storeroom.
"Thereafter, I was detained in the middle of the hall, threatened and my hand-phone taken away from me and examined. I was not allowed to contact anyone."While I remained detained in the hall, the TID officers ransacked my room. Thereafter, they took me into the room and told me to remove the contents from a bag, which turned out to be condoms," he said.
He said the men also played pornographic videos on a laptop they had brought, and ordered him to watch them, while being videoed by persons including pro-government media persons based in Kilinochchi.
Mr. Lechchmikanthan was arrested on January 18 – six days after the raid on the office.
Police spokesman SP Prishantha Jayakody said investigations were continuing into the cases.Meanwhile, leaflets containing pictures of Mr. Lechchmikanthan pulling out condoms from a bag, and watching pornographic videos on a laptop inside the TNA office, have been distributed in Kilincohchi town.
MP Shritharan said that two police guards deployed at his office too, were withdrawn with effect from December 4.
He charged that false allegations were being levelled against his staff, as they were gearing for the Northern Provincial elections which the government has promised to hold this year.
ST