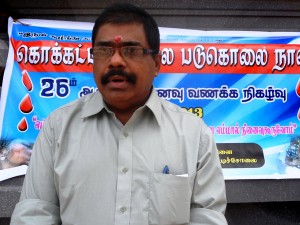 Add caption

TNA Parliamentarian P. Aryanenthiran has been questioned by the Terrorist Investigations Department (TID) over some alleged conversations he has had with political prisoners.
Aryanenthiran had been quizzed for nearly 1 ½ hours by the TID after he was summoned to record a statement.
He was asked about his conversations with Tamil political prisoners over the telephone in the recent past.

The TID had asked him about one particular telephone call where he had spoken to a political prisoner for nearly 25 minutes.
The TNA MP had said that he receives several telephone calls and SMS messages so the conversations he has with political prisoners is nothing special.
He also said that when he receives a missed call he tends to return the call not knowing who it is.
September 4, 2013 (Colombo Gazette)