Sri Lanka's major Tamil party, Tamil National Alliance (TNA) on Wednesday called for an independent international probe into the Mannar mass grave as the skeletal remains of people dug out from the grave site has risen to 59 by Tuesday, amid fears that it could well contain the remains of thousands of Tamil people who were made to disappear during the decades long war.

"One more human skeletal remains was recovered when the digging took place yesterday (11) for the 21 st time, taking the total number recovery to 59. At least one of them said is to be that of a child. We still don't know the extent of this mass grave. Some of the skeletal remains had bullet holes while some others have been found with their hands bound behind their bodies. We urgently call for an independent international investigation into this mass grave. Otherwise, there is a risk of evidences being tampered with or destroyed completely" Mannar District Parliamentarian of the TNA, Selvam Adaikalanathan told JDS via phone from his Mannar office on Wednesday.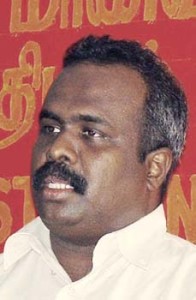 The mass grave in Manthai, in the Mannar district was unearthed when workers dug up roadside paving for a water project late December last year.
Several layers
According to the TNA MP, the latest recovery of a large number of human skeletal remains have renewed the fear of the family members of thousands of disappeared Tamil people that the remains of their loved ones could well be found there.
A team of forensic experts led by Anuradhapura Judicial Medical Officer D.L Waidyaratne earlier stated that bodies had been buried in several layers at the site. The TNA-controlled Northern Provincial Council has already adopted a resolution calling for UN assistance for forensic excavations at the site.
Strongly accusing the government troops of being responsible for the mass grave, MP Adaikalanathan said "Manthai, Thiruketheeswaram temple areas and other suburban areas were under the control of the army as the High Security Zone (HSZ) from early 90s and that the people had to use the sea route between Puttlam and Thazhvuppadu to reach these areas".
He said the skeletons recovered so far have been locked in boxes and preserved at Mannar hospital amid reports that some of the remains have been despatched to China for forensic tests.
International investigation
"We are also aware that some of the western countries, including the US, who are expert in forensic tests, excavation and investigation, have expressed their willingness to assist the local excavation and investigation processes, but they have not been granted necessary permission. We, the Tamils, cannot simply rely on the Sri Lankan government for justice. If the investigations into this mass grave are to be independent, it has to be an international one," MP Adaikalanathan said.
He said that Mannar Bishop Rayappu Joseph was conducting a mass in a church near the Manthai Mass grave with the participation of the family members of thousands of disappeared people Wednesday evening.
"We, the TNA, have also organised a massive protest rally in Mannar on March 12 with the participation of families of tens of thousands of disappeared, leaders and members of the civil society and leading human rights activists, to demand an immediate independent international investigation into this mass grave," MP Adaikalanathan said.
Lead photo courtesy: IB Times | Reuters
© JDS