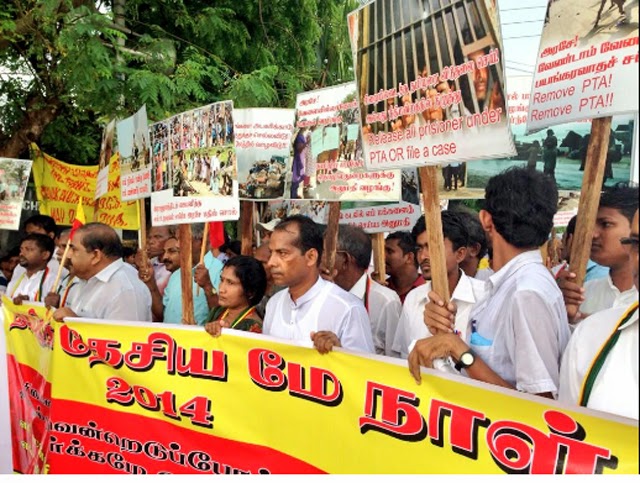 TNA May day in Jaffna ( Uthayan)
The Tamil National Alliance (TNA) called for an end to the Sri Lankan state's oppression, and for the Tamil people's right to self-determination, in a series of events across the North-East yesterday marking May Day.
In rallies in Chavakachcheri, Kilinochchi, and Batticaloa, Tamils demanded an end to the state's land grabs and militarisation in the North-East, stating that it was oppressing Tamil workers and reducing them to unemployment.
"
The voice of our Tamil people will soon be heard telling the troops to get out of our land, whether that's our President or the military they can't stay in our land.. The military – that we don't want – will need to leave soon!" Northern Provincial Chief Minister, C.V.Wigneswaran told crowds gathered at the the TNA's main event in Chavakachcheri.
The event was also attended by MP Mavai Senathirajah, MP M.A. Sumanithiran, MP Suresh Premachandran, and Northern Provincial Councillor Ananthy Sasitharan.
Thirty-two resolutions, as well as one calling for the Tamil people's right to self-determination were adopted by the TNA at that event.
The TNA leader, R. Sampanthan, addressed an event in Batticaloa, where TNA MPs P. Ariyanenthiran and S. Yogeswaran, as well as other provincial council members, R. Thurairatnam, K. Kurunakaran, K. Thurairajasingham, G. Krishnapillai and N. Indrakumar, led rallies.
The TNA's rally in Kilinochchi was addressed by TNA MP S. Sritharan, and TNA NPC Minister of Agriculture Ayngaranesan, Minister of Education Kurukularasa, as well as NPC member Pasupathippillai.
ES