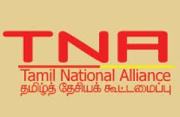 The Tamil National Alliance (TNA) strongly believes that the government is ridiculing the Sinhalese by alleging that a LTTE flag was brought to a government May Day rally in Jaffna. T.N.A. MP., Suresh Premachandran told Ceylon Today after the government told the international community that they were able to successfully eradicate terrorism, through this statement the government was unwittingly admitting an LTTE presence.

"The government stated that they completed the war against the LTTE and arrested many thousands of LTTE cadres after the war. Now the government is saying something else. This only ridicules the Sinhala race," he said.
According to the information received by the TNA, the person who was spotted carrying the LTTE flag was actually a member of the Sri Lankan Freedom Party (SLFP) office in Jaffna.
"The person had come out of the SLFP office on the road through which the May Day procession had to pass on the way to the rally to display the flag. This is unnecessary drama that is being created by the Government and the Sri Lankan army," he said.
Premachandran also stated that as the Sri Lankan army reportedly possesses the video footage of the incident, the police would be able to take required action to arrest the suspect.
He also stated that the TNA believes that there are absolutely no citizens in the North that host or possess LTTE flags.
By Atarah Senn
CT