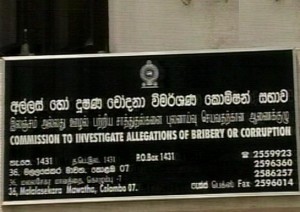 Transparency International Sri Lanka (TISL) has appealed to the President Mahinda Rajapakse to publicly announce that the Commission to Investigate Allegations of Bribery or Corruption (CIABOC) is an Effective and Independent Public Institution, empowered to impartially and free of political influence and bias to carry out its operations and achieve its set vision and goals.
TISL says it is particularly pleased with the reference made by the President that corruption and malpractices in State funded projects were rampant and that without the support of the public, such immoral activities could not be effectively checked.

"Since there is limited understanding of the political economy of corruption and its impact in Sri Lanka, we are committed to share evidence-based research and integrity tools with stakeholders, including the Public Sector and citizens at large. The rapid development of infrastructure in the country under Mahinda Chinthana-based development initiatives has enhanced the risks of corruption at all levels", TISL noted in a letter to the President.
"Furthermore, Your Excellency has highlighted the importance of the engagement of the public, who should be vigilant and when any socially unacceptable acts are observed they should bring it to the immediate public notice of the relevant Authorities of the area. These comments will no doubt trigger off an enthusiasm among the people to be more watchful and responsible and being partners in progress assuring effective, economic and efficient use of scarce national resources", it said.
In keeping with Your Excellency's laudable objectives, we wish to highlight certain elements that are essential in ensuring and fostering this vital conducive environment which should provide the required initiatives and encourage people's participation in eradicating corruption at all levels in the country.
The letter further stated: "CIABOC needs to be given greater independence and empowerment, and be adequately resourced with human, infrastructure. In addition, there are areas of essential legal reforms in enhancing the operational efficiency and effectiveness of Anti-Bribery and Corruption based law enforcements.
"CIABOC should be adequately provided with financial and human resources to effectively carry out operations, especially resources to carry out independent investigations and make charges against corrupt officials irrespective of status or position within public service.
"Sri Lanka should have certain key legal enactments to ensure justice in key areas of enforcement in order to strengthen the enabling environment.
Right to Information: First, all stakeholders must have access to information from State agencies on time and in required detail. Sri Lanka still lacks a robust Right to Information law. Its enactment will be a great inducement to our common vision.
Whistle Blower Protection: Corruption is a main factor that prevents investment. A safe equal playing field for investment requires the absence of corruption. Elimination of corruption is possible through effective anti-corruption measures. A primary need is to have an effective whistle blower protection system
Witness Protection: An equally important aspect of a conducive environment is effective witness protection. In the absence of whistle blower and witness protection, eliminating corruption will not be possible
"It is vital to recognize that the enabling environment for investment and development requires collective effort of all stakeholders of society. Policy capture based corruption is currently considered a key focus area globally for stakeholder initiatives, in minimizing the damaging impact of corruption and therefore necessary governance structures must be introduced and strengthened.
"The leakages must be stopped and energies to reach the shared vision harnessed. The role and inputs of professional bodies and watchdog organizations is essential. Their critical voices, leadership, direction should be integrated as a vital segment in the mechanism that will push Sri Lanka towards the shared vision of the "Miracle of Asia."
IS