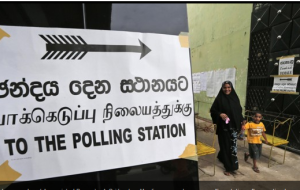 Election day: Kattankudi
Local election monitoring bodies Sunday ruled the Provincial Council Elections in the North Central, Eastern and Sabaragamuwa Provinces as neither free nor fair.
Campaign for Free and Fair Elections (CaFFE), People's Action for Free and Fair Elections (PAFFREL) and the Network for Election Monitoring of Intellectuals for Human Rights (NEM-IHR), at the culmination of Saturday's polling said the elections had not been held in a fair and free manner.
According to all three monitors, the police had acted in a biased manner and many incidents had taken place where the voters had been influenced to vote for a particular party or person.

Dr. Uditha Gunasekera, Chief Executive of the NEM-IHR, said although there were no serious incidents reported to directly affect the final outcome, some incidents had taken place, hampering the fairness of the election.
NEM had received a total of 62 complaints of violence and election law violations, including seven threats and assault, 15 incidents of voters being pressurized, two incidents where officials at polling stations were pressurized, three complaints where polling agents had been chased off, 30 complaints of illegal propaganda activities and police acting in a biased manner.
Did not affect final result
"On election day, NEM-IHR received several complaints related to election violence, such as assault, harassment of voters, and polling agents, illegal propaganda campaigns, and influencing of polling officers. However, we do not believe they seriously affected the final election result," Gunasekera said.
He added that taking into consideration the incidents that took place on Election Day, voting was relatively calm. "However, looking at the pre-election period, mainly the use of state machinery and resources, a large number of incidents were reported with regard to almost all parties. Therefore, NEM-IHR cannot rule the election as being totally 'free and fair'," he said.
Pointing out that the election results reflect the serious divisions in society, he cautioned, "If the ruling party and other parties do not review their strategies to unite the nation, the country will be dragged into another disaster," adding that the results give a strong signal asking for a different approach and strategy to unite the people as one nation.
Blatant violation of election law
Rohana Hettiarachchi, Executive Director, PAFFREL, said despite the overall peaceful environment on Election Day, PAFFREL does not consider the elections as having met its 'free and fair' criteria. He attributed it primarily to the manner in which government authorities acted in the pre-election period.
Hettiarachchi charged that many vested with governmental authority and contesting the polls, blatantly violated the election law. "There was large scale abuse of government vehicles and state property for election campaigning, and public announcements of new recruitments to the public services, in the provinces in which the elections were taking place," he said.
According to statistics issued, PAFFREL had received 105 complaints on Election Day (08 September), 44 cases of polls violence and 61 election law violations.
Hettiarachchi said although acts of violence were on a relatively low scale compared to previous elections, intense rivalry between the political parties in the Digamadulla District had led to some violence and many threats of violence. The SLMC request for police protection for its candidates had not been forthcoming; despite public announcements by the IGP that such protection would be provided. There had also been allegations that a senior police officer in the East had conducted himself in a partisan manner, and that he was transferred out to another part of the province.
Hettiarachchi pointed out that the police were successful in controlling some unlawful campaign activities, especially in removing illegal posters, hoardings and cut-outs. However, the delay in taking violators of election laws and the vehicles into custody indicated their inability to fulfill their duties in the face of State power. He added that it is unrealistic to expect the police and even other government officials to be impartial where there is no structural mechanism to protect them when they act in a non-partisan manner.
The Election Commissioner and his officers were seen acting with enthusiasm and positive spirit to provide the most level playing field wherever possible at the elections, Hettiarachchi said, pointing out that the Commissioner had shutdown illegal campaign offices, stopped new recruitment to the public service, prevented the distribution of goods to voters, which were deemed to be inducements, and ordered the seizure of state vehicles being illegally utilized for campaign purposes.
He added that the Election Commissioner had also maintained good communication with political parties and the media, to promote the best possible elections under the circumstances. "We believe his actions reflect the continuing integrity of the public services in the country, which PAFFREL has pledged to strengthen, in the face of difficult political circumstances," Hettiarachchi added.
PAFFREL observed Saturday's polls with close to 85% coverage, with both mobile and stationery monitors in the run-up to the election and on Election Day. It deployed 1500 stationary observers in the three provinces, in addition to 100 mobile teams with 300 mobile observers.
55% turnout
Hettiarachchi said that with few exceptions the polls were peaceful and the efficient conduct of the Elections Department and Police in ensuring an environment conducive to the voters to exercise their franchise freely is to be commended. "This may have accounted for the reasonable voter turnout of around 55%, notwithstanding the loss of confidence in the Provincial Council system. However, in some areas there was a tense atmosphere due to the strong rivalry between the contesting political parties. This was most marked in the Eastern Province, especially in places like Valaichchenai, Kattankudi and Akkaraipattu," he added.
According to PAFFREL, serious incidents were reported from Pulmudai in the Trincomalee District, which included a clash involving over 200 persons and the assault on 2 SLMC supporters who had to be hospitalized. There were also clashes between rival party members in Kattankudi and in Akkaraipattu, he said, adding that a vehicle belonging to a ruling party member was attacked and damaged.
Keerthi Tennakoon, Executive Director of CaFFE also said his organization cannot consider Saturday's election as being fair. "There were so many incidents reported during the pre-election period, including violation of election laws, disturbing of public rallies etc. There wasn't a free environment for a fair and free election."
"On the day of the election too, we saw some incidents during the latter stages of polling. In Akkaraipaththu, Ottamawadi and in Nintavur there were several incidents of violence reported. SP Ranagala had also assaulted some SLMC supporters and paved the way for impersonation in the Nintavur area," he charged.
"We also observed that at six polling stations in Akkaraipattu, supporters of A.L.M. Athaullah rushed in at a very late hour, and it was evident that it was a very calculated move. In most of the election reports, this incident has gone unnoticed.
"Violence in the Ottamawadi and Valachchenai areas was also very disturbing, as there was a fear psychosis created among the people of the area, one day before the election," he said.
PAFFREL and CaFFE representatives had requested the IGP to provide Special Task Force (STF) personnel for election security, which was approved by the Election Commissioner.
"We met the Election Commissioner and explained the grave situation in Akkaraipattu, where the voters were pressurized and a fear psychosis was created in the minds of the people. However it was very ironic that even though the STF was deployed, they simply parked their vehicles and did nothing to stop the people who were disturbing the peace and shouting on the roads," he said.
"The police too simply kept out of the incidents and acted in a very biased manner throughout the election. They kept the polling stations intact, but did nothing beyond that. The lesson learnt there was that the Election Commissioner's Department needs much practical implementation powers," he added.
by Camelia Nathaniel
courtesy: Ceylon Today/DBS
Photo:(Eranga Jayawardena/ Associated Press ) – A Sri Lankan Muslim woman leaves a polling station after casting her vote in Kattankudi, Sri Lanka, Saturday, Sept. 8, 2012. Sri Lankans voted in a provincial assembly election seen as a test of whether minority ethnic Tamils still want self-rule or are content with the government's development of an area devastated by a quarter-century civil war.