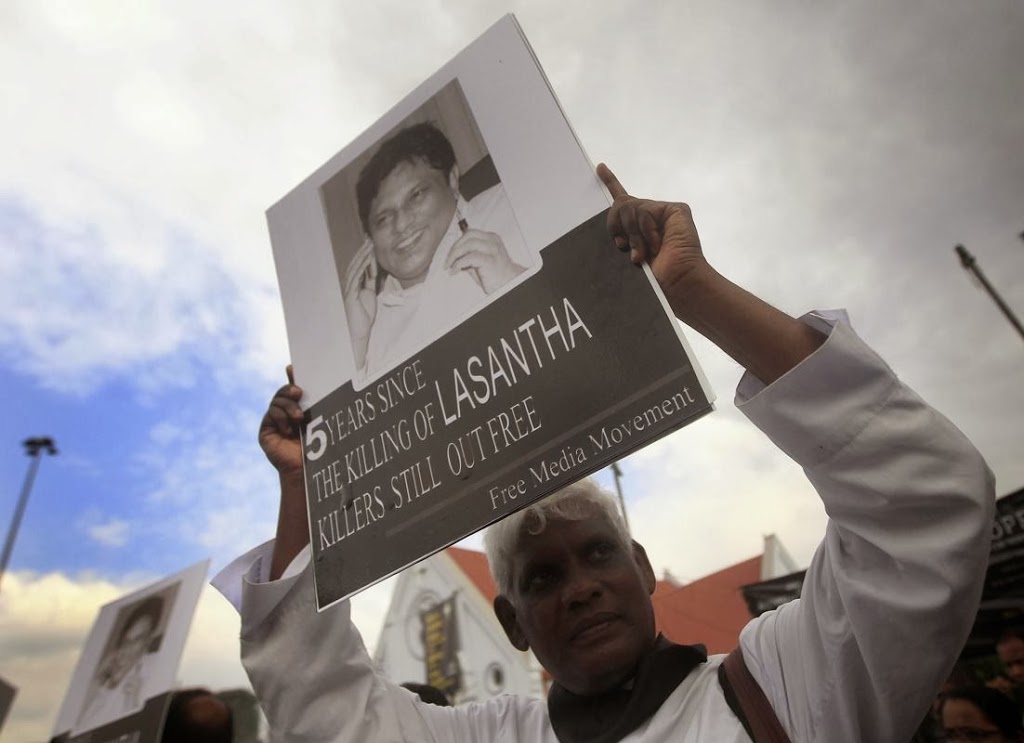 Associated Press /BHARATHA MALLAWARACHI
Thousands of protesters from opposition parties, human rights groups, trade unions and media groups marched Tuesday in Sri Lanka's capital in a rare show of dissent against the government.
They held separate marches in Colombo, shouting slogans which accused authorities of corruption and mismanagement, and later came together for joint rally.

Tissa Attanayake, an opposition lawmaker, said law and order has broken down in the country and the government has politicized judicial institutions.
The demonstrators also protested attacks on journalists who have been critical of the government, holding banners that read "Stop Suppressing Media."
Government spokesman Keheliya Rambukwella rejected the accusations, saying, "This is a democratic country and everyone has the right to demonstrate and protest."
He said investigations of attacks on journalists were continuing.
President Mahinda Rajapaksa has used his party's overwhelming majority in Parliament — gained through the popularity of winning a civil war against ethnic Tamil rebels — to expand his power.
He abolished a two-term presidential limit, scrapped independent commissions and took over their power to appoint top judges and police.
His party also voted last year to oust the country's first female chief justice, and Rajapaksa appointed his own aide to that position.
Sunil Jayasekara, convener of the Free Media Movement, said his group joined the protest to highlight high-profile attacks on media institutions and journalists that have occurred in January in recent years.
During that month in the past five years, an outspoken editor was killed, a private television station was attacked, an online journalist went missing and his office was set on fire.
Jayasekara said his group is not satisfied with the investigations of those attacks, in which no suspects have been arrested.
More than 80 journalists have fled Sri Lanka since 2005. The government has been accused of failing to properly investigate a series of attacks on journalists who were viewed as critical of the administration.
The human rights group Amnesty International says at least 15 journalists have been killed in Sri Lanka since 2006.
Photo: A Catholic priest holds up an image of journalist Lasantha Wickrematunge during a protest against what demonstrators said are the killing and abductions of local journalists, in Colombo January 28, 2014. Members of Sri Lankan media organisations who started the protest also marked January as a black month for media freedom in remembrance of local journalists who were killed. REUTERS/Dinuka Liyanawatte
AP