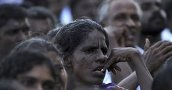 "We are not going to give up till all those people involved in genocide are brought to justice," said India's former Foreign Minister and a top leader of the Bharatiya Janatha Party (BJP) Yashwant Sinha Friday,
questioning the motives behind New Delhi's silence on the UN Chief's expert panel report that found credible evidences for the wide-spread allegations of war-crime committed by the Sri Lankan troops. According to media reports from India, leaders of various mainstream political parties, including the BJP, on Friday have expressed solidarity with Eezham Tamils, saying that they would continue to raise their voice until everyone responsible for the "genocide" there were brought to justice.
At a protest rally organised in New Delhi by MDMK chief Vaiko to protest the Centre's "silence" on the UN report, BJP's Yashwant Sinha and Lok Jan Shakti Party (LJP) chief Ram Vilas Paswan have criticised the Congress-led Indian government for citing China's growing influence as a reason for India's engagement with Sri Lanka.
Sinha, who was External Affairs Minister during the NDA regime, has criticised Prime Minister Manmohan Singh for his reported remarks that India cannot impose economic sanctions against Sri Lanka as it would encourage China to displace it as a strategic and trading partner of the island nation.
"This shows mere helplessness that we have lost all out clout and friends and that we have to surrender ourselves to China. It is a matter of shame for our country and it is matter of greater shame for the government," the Press Trust of India (PTI) has quoted Mr. Sinha as saying at the rally on Friday.
Suggesting Vaiko to organise a rally in Tamil Nadu in which he would also participate, Mr Sinha has said: "We are not going to give up till all those people involved in genocide are brought to justice".
"I will also join you and we will all set sail for Sri Lanka and go there and tell the world that India is with you. We will mount an unarmed attack on Sri Lanka. We would like to tell the world that Indians are solidly behind the Eelam Tamils," he has said.
Echoing his views, Paswan said the LJP would raise its voice for the cause of Sri Lankan Tamils both inside and outside Parliament.
Encouraged by the support extended by India's major political parties, the firebrand leader of the MDMK Vaiko on Friday urged the coalition government of India to "impose economic sanctions on Colombo and cancel all India-Sri Lanka trade and commercial agreements" as means of punishment for committing war crimes and crimes against humanity against the Tamil brethren by its military during the final months of the war.
Addressing the rally, Vaiko has said India's Central government should take up the issue of war crimes allegedly committed by the Rajapaksa government with the United Nations and its human rights council and get the guilty punished by the International Court of Justice.
He has also criticised Sri Lanka Defence Secretary Gotabhaya Rajapaksa's recent remarks against Indian politicians, particularly Tamil Nadu Chief Minister Jayalalitha, asking them to mind their own business and not interfere in the internal affairs of Sri Lanka.
He wondered why Prime Minister Manmohan Singh was not condemning the remarks made by Gotabhaya Rajapaksa, who also a younger brother of President Mahinda Rajapaksa.
Mr. Vaiko has said that achieving Tamil Eelam was the only solution to the Tamils issue and suggested that an international move was needed to call for a referendum on this.