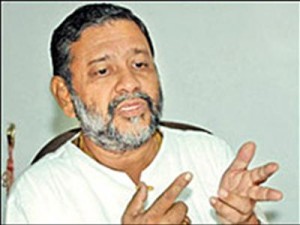 Mr. Tissa Karaliyadda
Condemning the statements made by Minister Tissa Karaliyadda on 11th March 2013, regarding women in leadership
On the 11th March the Minister of Child Development and Women's Affairs, Mr. Tissa Karaliyadda, stated that "women are incapable of performing duties of the head chair." He went on to state that "when a woman is given authority in a department or a ministry they tend to suppress other women are under their administration out of jealousy. This situation will lead to inefficiency in that particular organization. Hence always the main chair should be given to a male and the assistant should be a female"
(Source: http://www.mirror.lk/news/5843-a-male-should-always-be-the-chairperson). The same was circulated through a mobile phone message alert system. It has also generated several discussions in the cyber space and a few news agencies have republished his statement. In past too, the minister had made similar claims (Mawbima, 12 November 2012, Divaina, 15 March 2013). In such a context, we issue this condemning statement.
We as activists and organizations working for women's rights strongly condemn the Minister's statement. It is extremely distressing to learn his beliefs regarding women, their capabilities and their place in society at a time when where there is so much work to be done towards reconciliation and development of women and their equality.

The Minister's statement degrades women's activism and their struggle for equality in the last four decades. In a democracy like Sri Lanka the rights of men and women must be respected equally, and they must all be provided with equal opportunity; and this principle is enshrined in the Constitution. However, the Minister's statement contains no notion of this right to equality.
Leadership capabilities depend on every person's skills and abilities. There is no scientific research proving that men make better leaders than women. When women started struggling for equality in the 18th century similar claims were made regarding their inability to lead, their weaknesses, men's superior capabilities.

Such allegations have been proven wrong time and again through research, experience, and as well as by the equality discourse and women's struggles.
Our own country presents many examples disproving such claims. The first democratically elected woman prime minister was Sri Lankan, and several NGO's and Corporation are headed by women. At the international level a number of Sri Lankan women have been active in making, as well as enforcing, law and policy, just one example being Sri Lankan women's active participation at the Beijing Platform in 1995.

The ratification and signing of the CEDAW Convention was due to the activism of women and so was the passing of the 2005 bill concerning domestic violence.
We women find it contemptible that at a time when the world celebrates Women's Day and acknowledges the rights of women, that the Minister (of Child Development and Women's Affairs!) should make such a statement.
As a result of their activism, women are no longer seen as second class citizens, or weaker humans. The time when women's skills and abilities were exploited without credit being given, is now history. Today women's opinions and participation in all walks of life are welcomed.

Several movements have achieved their goals with women as leaders with men and women participating equally.
At a time when women's leadership is being encouraged the Minister of Women's and Children's Affairs should be one who encourages and supports such initiatives. Instead, the Minister has created doubt about the Sri Lankan government's initiatives regarding women's right-based development and security. He seems unaware of the work women do at the village level as leaders of Women Rural Development Societies (WRDS) which are structures set up by the government. It appears to us that he has neither understanding of women's rights nor knowledge of his own government's policies concerning them. It is because such sexist and patriarchal beliefs exist that we insist that men who do not believe in equality should not head such a Ministry.
The Minister's statement not only encourages inequality and sexism but also shocks and insults all those who work for equality in this country. Time and again we have heard ministers make degrading statements about women. However it is pertinent to note that women are the primary revenue earners of this country working as maids in foreign countries and as garment factory workers and tea pluckers within Sri Lanka. While women are still treated unequally in many sectors, Sri Lanka continues to gain fame and wealth due to the work women do.
As women who are part of the women's movement of Sri Lanka, and as men who believe in equality between men and women, we can no longer accept these patriarchal beliefs. As people who raise our voices for women's equality we demand that statements made by the Minister must be in line with principles of equality. As a Minister responsible for ensuring State measures and policies promoting the equality of women he cannot at any time dismiss women's equality in such a manner. We demand that the Minister retracts his statement and apologizes for demeaning women in such a manner. Moreover, he should resign if he is incapable of fulfilling the role of the Child Development and Women's Affairs Ministry.
Affected Women's Forum, Akkaraipattu
Centre for Social Concern
Jaffna Women's Development Centre
Mannar Women's Development Federation
Mullaithivu Women's Development and Rehabilitation Federation
Muslim Women Development Trust
Point Pedro Institute of Development
Rural Development Federation
Abdul Kadar Uwais, Social Worker
Chitravel Ithayarani, Women's Rights Activist
D. Cayathri, Feminist Activist
Fathima Bisliya, Women's Rights Activist
Fathima Rameeza, Women's Rights Activist
Fathima Sahani, Women's Rights Activist
Guna, Women's Rights Activist
I. Sujanthini, Female Three-wheel Driver, Jaffna
J. Jeyaprabha, Administrative Officer, Wholistic Centre, Jaffna
Jansila Majeed, Women's Rights Activist
Jinosini, Women's Rights Activist
Juweiriya Uwais, Women's Rights Activist
K. Rajeswary, Coordinator, FRIENDS
K. Usajini, Woman's Rights Activist
Krishna
Velupillai, Concerned Citizen
Kuhanithi Kunachandran, Women's Rights Activist
Malathy Manoharan, Women's Rights Activist
P. Nalini, Treasurer, Jaffna District Pengal Samaasam
Priya Thangarajah, Feminist Activist
Rajany Chandrasekaram, Women's Rights Activist
Rajany Rifath, Student of Senkuntha College
S. Sumangali, Member, FRIENDS
Sathiq Sulfiya, Women's Rights Activist
Sharmila Hanifa, Women's Rights Activist
Shreen Saroor, Human Rights Activist
Suharsh Ratnam, Lawyer, Jaffna
Suyamenmai Ondriyam, Alambil
T. Premaja, District Coordinator, 4U, Jaffna
T. Sangeetha, Women's Rights Activist, Thavadi
T. Sumathy, Programme Coordinator, CORE
T. Tharshika, Women's Rights Activist
Ushananthini, Women's Rights Activist
Vanie Simon, Women's Rights Activist