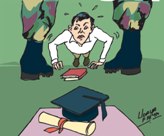 Federation of University Teachers' Associations (FUTA) has expressed opposition to the leadership training for the post graduates. FUTA spokesperson Dr. Mahim Mendis told Ceylon Today that university academics were not supportive of leadership training as the youth have to undergo training in military camps.


The students are exposed to a regimental culture, and the highest qualified youth in the country should not be taught how they should think or act by the military, he said.

"The university academics do not want a militarized society. We want students who can think freely and have different viewpoints. Even if they disagree it's alright, we do not want blind obedience," said Dr. Mendis.

Higher Education Minister S.B Dissanayake had previously stated that a sense of unity, independence, brotherhood and leadership skills were instilled in students during leadership training camp. Refuting this statement, Dr. Mendis charged that such skills should be developed during a student's primary and secondary education, and not when a person is an adult.

"There is poor human and physical infrastructure development in education. Poor quality people are created when there is poor quality education. Sufficient funds should be allocated for the education system to develop. One's primary and secondary education is what contributes to your personality development, not two or three weeks in a military camp," he charged.
By Aisha Nazim
CT