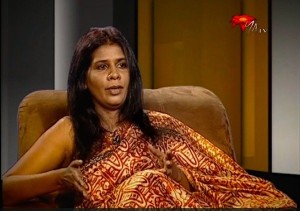 Dilrukshi Handunnetti is currently Senior Deputy Editor, Ceylon Today and was, before Lasantha Wickrematunge's murder, lead investigative journalist at the Sunday Leader.
We begin by going into why after years as a journalist, Dilrukshi joined Transparency International for a few years to advocacy for many of the same issues that she had written about in the media. She is also asked whether in her current position at Ceylon Today – geared more to the oversight and curation of content others produce – she missed actually writing investigative articles herself.

We then talk about how, even after the end of the way years ago, Sri Lanka's media freedom and space for critical dissent remains abysmal, and by some global indicators, ironically getting worse post-war. She explain why she is still interested in writing as a journalist in this context.
We go into this in more detail given the pushback from the Sri Lankan armed forces she got when writing a path-breaking story on IDPs (Putting paid to the Government's false claims: The new IDPs in Sri Lanka, published in Groundviews last year as well as in Ceylon Today) and whether this degree of violence against journalists post-war is under-recognised within and outside the country (Editors note: Also read Restrictions and intimidation on journalists covering resettlement process in the Vanni).
We then talk about the apathy of the larger citizenry towards issues perceived as either inconvenient to the dominant post-war narrative of prosperity, peace and development as well as from voices, places and around events and processes considered peripheral. Dilrukshi is asked why as an investigative journalist she is interested in writing about and flagging stories no one really seems to care about, or interested in.
Dilrukshi is then asked to reflect upon the incredibly divisive state of Sri Lanka's media freedom organisations as well as the deeply fractured relations between even exiled journalists. Aside from the Rajapaksa regime's orchestrated violence towards independent media, Dilrukshi is asked whether the constitution of media freedom organisations, their politics and relationships with each other further stunt the growth of freedom of expression.
Dilrukshi then talks about the Government's proposed Code of Ethics for Media, which it has promised to release for public discussion in the near future. She also notes that self-regulation based on existing frameworks and guidelines is better than regulations imposed by government.
Dilrukshi is then asked for her opinion about the future of investigative journalism in Sri Lanka when the current government cannot even acknowledge the importance of giving citizens access to information, through enabling FOI/RTI legislation, even though this was unequivocally recommended by the LLRC. She is also asked as to why there isn't greater public demand and clamour for FOI/RTI legislation in post-war Sri Lanka.
Dilrukshi ends by looking at how new media can address and complement mainstream media, even without RTI/FOI legislation, in publishing stories that would not otherwise have made it to a larger public.
listen to the full interview here
– GV