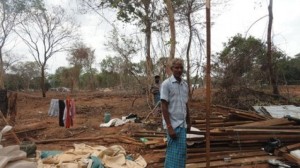 menik farm relocationsept2012
Displaced Tamil families left in jungle. Photo: BBC
Nirmala Kannangara
"As you know the Universal Periodic Review (UPR) will take place in Geneva in November, 2012. It is through this the United Nations Human Rights Council (UNHCR) will examine the human rights situation in Sri Lanka. The government wants to score marks by announcing that they were able to re-settle all the IDPs who were in Manik Farm. That was why wide publicity was given about this 'resettlement' during the past few days. Only we know as to how the last batch of IDPs were 'resettled' in this Suriyapuram camp," – military personnel at the Suriyapuram camp
Reporting from Puthukkudiyiruppu and Nandikadal in Mullaitivu:
In order to win over the international community and window dress itself before the crucial Universal Periodic Review of the Human Rights Council coming up this October and November, the government has been engaging in a series of cosmetic gestures. The most recent being the closure of the Menik Farm internment camps which once held over 300,000 detainees.
Displaced and then displaced again
However the Government's claim to have resettled the last batch of IDPs, who were in the Kadiragamar and Ananda Kumaraswamy relief villages at Menik Farm over the past three years, is just another whitewash.
Although the government maintained that the remaining IDP's who from the Kepapilaw Grama Niladhari Division and Manduwil area have been re-settled in their respective villages, they are still in small tents at the Suriyapuram camp.
Suriyapuram camp – Media not allowed
Suriyapuram camp which is situated in close proximity to the Security Forces Head Quarters in Mullaitivu is guarded by a group of army personnel and the media is not allowed to visit the IDPs, in fear of the facts being reported.
Media told to get permission
When The Lankastandard visited Suriyapuram camp in Nandikadal on Wednesday September 26, 2012 to report on the efficacy of the 're-settlement' programme of the IDPs and the progress thereof, the army stops us in our tracks. The military personnel at the check point told us we could not proceed unless we had either the permission of the District Secretary Mullaitivu or the Civil Affairs Officers of the Security Forces Headquarters Mullaitivu Col. Bandara or Col. Fernando at 59 Division.
Pillar to post
Though we tried to get through to Col Bandara on the phone his phone was switched off. We then visited Col. Fernando at his office of the 59 Division but was again told we now needed to contact the District Secretary (DS) Mullathivu.
"Col. Bandara is in charge of all the security arrangements and is on leave for five days. Since he is not available get the DS Mullaitivu's permission," Col. Fernando told us.
Though we asked to speak to someone of a higher rank in order to get the permission to visit the IDPs he was unable to provide this information.
"I am at the 59 Division and do not know who the second in command at the Security Forces Headquarters in Mullaitivu is. I'm sorry I'm unable to help you," Col Fernando added.
However DS Mullaitivu, Mr. Nagalingam Vedanayagam when contacted was surprised by these blocks and informed us we could proceed as media as he had certainly not imposed any restrictions as claimed by the army.
Passing the buck
Realizing that the army officers were stalling and buying time by passing the buck from one person to another until late evening so that it would become difficult for us to travel and speak to people once night fell, we decided to return to the army makeshift post once again to attempt to find out what the real reason for this elaborate push back in not not allowing us to go to the camps was.
The great stage play
One of the younger army officers at the Security Forces Headquarters, Mullaitivu now decided to open up having first looked around to check none of his comrades could hear him. Having observed how we were trying to get permission to enter the Suriyapuram camp he told us it must raise concerns as to why the media is not allowed in.
"Why can't the army allow the media to visit this camp? The media personnel should understand the secret behind this move," he said refusing to give his name or rank in fear.
Few facilities
According to him, the last batch of IDPs was not re-settled but sent from the Kadirgamar and Ananda Kumaraswamy camps to 'another' camp with very few facilities.
"As you know the Universal Periodic Review (UPR) will take place in Geneva in November, 2012. It is through this the United Nations Human Rights Council (UNHCR) will examine the human rights situation in Sri Lanka. The government wants to score marks by announcing that they were able to re-settle all the IDPs who were in Manik Farm. That was why wide publicity was given about this 'resettlement' during the past few days. Only we know as to how the last batch of IDPs were 'resettled' in this Suriyapuram camp," he added.
"President Rajapakse was here yesterday (September 25th) opening new offices but even he did not think of visiting the camp," this young officer said shaking his head.
According to this officer who had visited the IDPs in Menik Farm's Zone No: 2 and 3 – namely the Ramanadhan and Arunachalam relief camps and in his opinion they lived a comfortable life even in those camps compared to the camp the last batch of IDPs are now being housed in order to show the world that the Menik Farm is closed.
"They were in tin sheet huts with cement floors but now live in ramshackle huts with only a camp cloth above their heads," he added.
Two IDPS tell us their story
Although the army tried to prevent the real issue being highlighted in the media, we were able to speak to two IDPs who have come out of this camp to visit their families.
Marimuttu Periyasamy an IDP from the last batch said they are suffering immensely after shifting from Kadirgamar relief camp to Suriyapuram camp.
We are not resettled. Who says we are resettled?
Manikkam was yet another person whom we met on our way beck. He too is an IDP in the Suriyapuram camp. "We were not given anything. Who says that we have been re-settled. We were taken out from the Manik Farm and bought to the Aranaganwila school day before yesterday (Monday September 25). There we were asked to go anywhere we wish to which we opposed. Then we were brought to this camp. We do not have proper drinking water facility or sanitation facility. It was better if we were allowed to stay at the Manik Farm without 're-settling' us under the trees," said Manikkam
Resettled under trees
"We were not given anything. Who says that we have been re-settled. We were taken out from the Manik Farm and bought to the Aranaganwila school day before yesterday (Tuesday September 25). There we were asked to go anywhere we wished to which we were opposed. Then we were brought to this camp. We do not have proper drinking water facilities nor sanitation facilities. It was better if we were allowed to stay at the Manik Farm without 're-settling' us under trees," said Manikkam.
Saraswathi's story
She is from Thimbili, Puthukkudiyiruppu
Sarasthwathi had to leave Kumaraswamy relief village on September 18 and is trying hard to earn a living for her family.
"I am not married and looking after my sister's daughter. When this girl was away in school, a shell fell on to my sister's house killing her and the son on the spot. I decided not to get married so I could look after my niece who is now in grade 9," Saraswathi told us.
According to her, the government only provided cooked meals during the first few days at Kumaraswamy camp but it was an NGO that provided dry rations after that until she left.
"It was the NGOs that brought us here and gave us camp cloths for the roof. The tin sheets that covered our 'houses' in the camp were given to us. We were told that the NGO will provide us dry rations but so far we have no received this," she added.
Indrani's story
Indrani is a single mother of two who had came from the Kadirgamar camp on August 8, 2012.
She too said that she got the tin sheets and the camp cloth for her house but added that she was starving for two days.
"I am a heart patient and cannot engage in hard work. Earlier I collected pieces of aluminum and sold that to feed my children. But there are no more aluminum pieces only metal pieces. But the army is not allowing us to even collect them. However men collect those secretly. I do not even have a glass of tea from yesterday," she said.
Indrani's husband too was a victim to a shell. On January 2, 2009 a shell fell on our house and he died because we could not take him to the hospital.
Indrani found it hard to tlak to us for long lying on the ground at one time as she felt faintish.
"This morning I drank medicine after having a cup of water. My whole body is lifeless now," she explained.
Manjula's story
Manjula too is a single mother who undergoes severe difficulties. She lost her husband on April 15, 2009 in Wellimulla Waikkal.
"We had a good life in Kumaraswamy camp. Now we are suffering immensely. No food, no proper drinking water or a decent hut to live with my children," she said.
Sangeetha's story
Sangeetha too had come from Arunachalam camp and said that her husband was taken away by the army but did not return.
"I met my husband during school days. My husband was later conscripted by the LTTE forcibly. When my child was two and a half he was taken away by the army and he never returned," she said.
Ranjani's story
Meanwhile Ranjani narrated a different tale of woe. She complained that their lands had been taken over by the army and not returned to them.
"We came to Puthukkudiyiruppu from Paranthan in 1995. This was a thick jungle and was under attack from both LTTE and army. However we cleared the jungle and got a house built which was along the main road. We had to drive away the wild elephants to protect our cultivations. But now we were not given our lands claiming that they have to be developed. However that land has now been given to two families known to the Land Registrar at the Divisional Secretary's office she alleged. There is no one to stand by us. We are harassed from all quarters.
Nothing without Defence Ministry approval
All attempts to get the exact details about the last IDP batch from Captain Suminda at Ananda Kumaraswamy relief village and Major C. Abeykoon at Kadirgamar relief village were not successful. According to them, details of the last batch of IDPs have to be given only with the Defence Ministry approval.
Some families resettled
However a reliable source at Kadirgamar relief village on condition of anonymity said that 56 families who hail from Kepapilaw Grama Niladhari Division and 121 families who hail from Manduwil were re-settled on September 24.
Menik farm
"In this Manik Farm there were a total of eight relief villages set up. They were from Zone 0-7. Zone 0- was the Kadirgamar relief village, Zone 1- Ananda Kumaraswamy relief village, Zone 2- Ramanadan relief village and Zone 3- Arunachalam relief village. All these zones were named after distinguished Tamil leaders. THe rest of the zones from 4-7 did not have names but were identified from the zone numbers," he explained to us.
No comment on where the IDPs were taken
Although he furnished details about those who left the camp on Monday September 24, he did not wish to make any comment as to where the IDPs were taken.
"Extremely sorry cannot comment on that," he said.
Journalist and Photographer threatened
My photographer and I who were in Mullaitivu on Wednesday and Thursday were stopped from entering the Suriyapuram camp in Nandikadal by the army officers on guard. This was the camp where the last batch of IDPs from the Manik Farm was brought to although the government claimed they were re-settled in their villages.
Not only did they stop us from entering the Suriyapuram camp, they threatened us not to write anything detrimental to them.
One of the army officers who were inside the makeshift camp shouted at me to leave the area immediately and warned me not to write anything against the camp and the IDP grievances but to 'mind my own business'.
Worst job
"You people are paid by the NGOs and what ever they ask, you are prepared to dance to their tunes. Journalists job is the worst found in this country. They are trying to make a living from reporting detrimental issues, which is not right. Get out from here if not we know what to do," he warned.
Meanwhile my photographer took out his camera and captured a series of photographs as the threats were being made.
Realizing they were now on camera more than 15 army personnel surrounded our photographer armed with assault riffles pointing at him, he was manhandled and attempts were made to pull his camera. However he was brave enough to stand by his feet firm shouting 'if my camera is taken I will give wide publicity to this harassment over the independent media and see what will happen next," he said.
Even the driver of our vehicle was not spared. He was not allowed to turn the vehicle to go back but forced to reverse to the main road which was quite a long distance. Meanwhile seeing the danger we were all in at the moment I decided to have the pictures deleted and on my request, our photographer deleted the pictures in front of these army men so they would be satisfied and feel less threatened. Meanwhile they also wanted him to delete the pictures he has taken earlier to which he did not heed.
District Secretary says YES army says NO
District Secretary Nagalingam Vedanayagam when contacted to get permission to enter the Suriyapuram camp said that there are no restrictions for any visitor to enter the camp.
"I have not imposed any restrictions. Who said that anyone who wants to enter this camp area has to get my approval? This is not true. Tell them that I told you that restrictions have not been imposed," he said.
Cannot give details over the phone send me the questions in an email says Lakshman Hullugalle
Director General Media Center for National Security Lakshman Hullugalle wanted us to forward all questions regarding the final batch of IDPs to his email promising to respond. However we have yet to receive Hullugalle's response the questions.
We were dragged to this camp when we wanted to protest- Marimuttu Periyasami
Periyasami was one of the IDPs who was 'resettled' on Monday September 24 at the Kaiveli Ganesha Vidyalayam (School) in Puthukkudiyiruppu. We met him on our way back after our unsuccessful attempt to enter Suriyapuram camp.
When we stopped our vehicle at a small junction in Nandikadal to ask for directions to Mullaitivu town, Periyasamy approached us speaking in Tamil. We were lucky enough to have a Tamil speaking driver who talked with Periyasamy.
In fact Periyasamy had witnessed the altercation we were a part of at the army check point and had seen how we had been threatened by the army personnel who were guarding the Suriyapuram camp. He had then decided to seek us out to talk to us.
"At Kadirgamar relief camp we lived a comfortable life – in cement floored tin roofed tents. But now we are being pushed from pillar to post. We were taken to Kaiveli Ganesha Vidyalayam in Puthukkudiyiruppu and then we were told we could go to our native villages. This is unfair. We don't have anywhere to go. If we don't have any place to go where have we to get back to? That was why we decided to protest against this ill-treatment. We were then brought here because President Mahinda Rajapaksa came to Mullaitivu yesterday," said Periyasamy.
According to him the disabled are well looked after by the army but the rest of the people do not get much attention.
LS