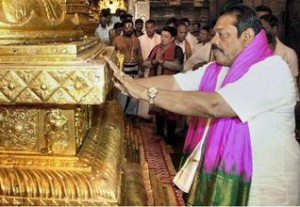 Unable to conceal his displeasure at the widespread protests against his visit, Sri Lankan President Mahinda Rajapaksa said on Saturday that in a democratic country like India everyone had a right to protest.
In a brief interaction with journalists, Mr. Rajapaksa said anyone was free to visit his country for a firsthand assessment of the conditions and see what constituted the truth, making an indirect reference to the allegation that he had masterminded the "genocide" of the Tamils and his government was responsible for the desecration of Hindu temples.
On a two-day visit to the temple town, the President offered prayers at the shrine of Lord Venkateswara in the early hours, participating with his wife Shiranthi Rajapaksa and a 70-member delegation in the Suprabhata Seva.
The chief priest honoured him with a silk vastram of the presiding deity and Tirumala Tirupati Devasthanams Joint Executive Officer K.S. Srinivasa Raju presented him with laddu prasadam and a memento.
Mr. Rajapaksa said Sri Lanka was ready to host Srinivasa Kalyanam, a TTD programme meant to propagate Bhakti and Sanatana Dharma.
When TTD Executive Officer L.V. Subramanyam met him and explained religious and charitable activities being taken up by the temple administration, Mr. Rajapaksa evinced interest in the programme.
He said he would write to the temple management with a request for conducting it in Sri Lanka.
RAW chief meets Rajapaksa
Research and Analysis Wing (RAW) Director Alok Joshi met Mr. Rajapaksa for more than 30 minutes at the guesthouse. The meeting is significant as Mr. Rajapaksa did not meet any Indian leader during his two-day personal visit, to Bodh Gaya and Tirumala.
Mr. Rajapaksa drove down to the Tirupati airport, from where he flew back to Colombo at 11.50 a.m.
The Hindu