Image courtesy of Lalith Perera and BBC Sinhala.
The International Network for Sri Lanka's Democracy based in Europe unconditionally condemns the repression unleashed by the Rajapakse Government on protests conducted by citizens' groups in different parts of Sri Lanka, using the Covid epidemic as a pretext. We also express our solidarity with the protests. These protests were conducted peacefully and within the bounds of the law. Protestors adhered to health guidelines issued by the authorities in the wake of the pandemic. No government has the right to suppress protests conducted by the peasants, workers and students to highlight their demands. The right to protest is a fundamental right of the citizen.
The International Network for Sri Lanka's Democracy wishes to point out that the repression unleashed by the Rajapakse regime has a clear political motive. That is evident from the fact that while citizens' groups were arrested and forcibly sent to quarantine, the Police even provided security for congregations organized by supporters of Basil Rajapakse on the same day, 08 July 20210. Thus, it was clearly a politically motivated suppression. Even after political and trade union leaders were released on bail by courts, they were forced into vehicles and taken to quarantine camps, showing that unlawful acts of the repressive regime have no bounds. The photograph showing the cruel manner in which a Buddhist monk was dragged away by the Police is symbolic of an autocratic regime. This repression is not something restricted to issues related to the pandemic. It is but another step in the anti-democratic and arbitrary political strategy of the Rajapakse regime from its inception.
The terror so unleashed and the intimidation of the media is only a part of broader repression. That this strategy of the government can be successfully met only by united and coordinated struggles has been pointed out  by the protests of the trade union and civil society organizations. We wish to emphasize that, not stopping at condemning the evil repression of the Rajapakse regime, it is essential that broad and united action be taken to safeguard the democratic and human rights of the people of Sri Lanka.
In the meantime, the International Network for Sri Lanka's Democracy demands that the Rajapakse regime immediately release all political and civil society activists forcibly sent to quarantine camps.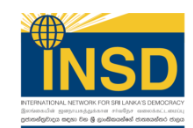 (Media release)
Senaka Wattegedera
Ranjith Henayakearachchi
Sivasamy Sivarajan
On behalf of the International Network for Sri Lanka's Democracy
INSD e.V.
International Network for Sri Lanka's Democracy e.V.
Pulsstraße 57,
70794 Filderstadt
Germany
[email protected]