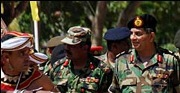 The Ceylon Teachers' Service Union has called upon the general public to join it in urging the government to defeat a move to offer the rank of colonel to school principals.

In a media release' signed by General Secretary of the CTSU Mahinda Jayasinghe, the union says that the government is preparing the ground to militarise the local school system by converting school principals into Colonels of the National Cadet Corps, coming under the purview of the Ministry of Defence.
"We condemn this move to militarise the schools. This would result in producing children being trained to follow orders from top without questioning them," Jayasinghe says in the release.Interviews had been held on July 04 and 05 at the National Cadet Corps headquarters in Kirulapone for principals and educational directors to select the first batch of colonels under the proposed scheme. Those selected would be directed to undergo one week's training and on completion of it they would be commissioned in the rank of colonel of the NCC which has the powers of same rank in the Sri Lanka Army.
Jayasinghe says the main reason given for the government decision to promote principals and educational directors to the colonel rank is the deterioration of discipline in the school system. It is true that discipline within the school system has hit the rock bottom, but there are several reasons this situation, the teachers' union says, condemning the government's alleged move and requesting parents and the general public to exhort the government to abandon its plan to militarise the school system.
IS