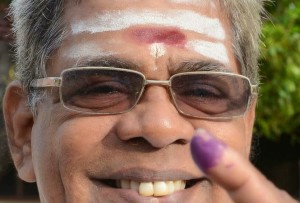 Tamils vote for autonomy ( photo Hindustan Times)
Bob Rae

Vote reveals Sri Lanka's unavoidable truth: Other voices must be heard
The results are in for the provincial election in Sri Lanka's northern most province, the area around Jaffna, and they are clear as a bell: nearly 80 per cent of voters, despite much evidence of harassment, cast their ballots for the Tamil National Alliance.

The TNA has long been a parliamentary voice for Tamil nationalism, with a close, but complex, relationship to the LTTE and the military struggle. When the fighting was on, it was often hard to see much light between the Tigers and the parliamentarians. With the crushing defeat of the LTTE in May of 2009, more Tamil leaders inside Sri Lanka talked publicly of the need to "move on" and "deal with the realities on the ground."
With this decisive vote, choices will have to be made on all sides, recognizing that the current Sri Lankan constitution grants few powers to provincial councils, and that the leaders and organization that really run the country at the moment, the Rajapaksa family and the army, have never really embraced the plural and diverse nature of the country. The powers that are supposed to exist outside the reach of central control are there on paper, and not in reality. An election does not make a democracy on its own, and an election in the northern region hardly means that Sri Lanka has turned a corner.
After May, 2009, President Mahinda Rajapaksa, his brothers and the army have not exactly chosen the path of truth and reconciliation. Triumphalism would be more like it, and it is both the denial of the brutality of the end of the war and a complete failure to embrace diversity and a respect for human rights that has made the current government so controversial.
One suspects that neither the government nor the Tamil National Alliance expected such a clear result. But whether it changes anything remains to be seen. Jaffna and the regions around it remain under military occupation. The central government is reported to be offering land to Sinhalese soldiers in the north, which will only exacerbate the sense that ethnic cleansing is only a matter of time.
For many in the majority, it will seem the ultimate insult that their military victory has not brought worldwide approval and humble acceptance from the Tamil community that the path to self-determination was some kind of terrible mistake.
But life's not like that. The aspiration among Tamils for recognition and respect began decades ago, and did not die on the beach where Velupillai Prebhakaran and his supporters were killed. This election result confirms it, and means that thinking about devolution and power sharing has to start again. It is the unavoidable question at the heart of Sri Lankan politics, and the military detour after the collapse of the cease-fire in 2006 did nothing to resolve it. There are no doubt many in Sri Lanka – and other parts of the world – who find the return of pluralism and alternative voices a threat to the simplicity of majority rule. But simple answers are never good ones when it comes to governing complex societies.
Sri Lanka has a Buddhist, Sinhala speaking majority. But it also has significant Hindu, Christian, and Muslim minorities, most of who speak Tamil as their first language. And the political solidarity shown in the heartland of this complex community, even so much destruction and defeat, is a clear message to the Sri Lankan government and the world.
Bob Rae is a former member of Parliament and former premier of Ontario. From 1999 to 2006, he served as chairman of the Forum of Federations and was an adviser to the Sri Lankan peace process.
Bob Rae is a former member of Parliament and former premier of Ontario. From 1999 to 2006, he served as chairman of the Forum of Federations and was an adviser to the Sri Lankan peace process.
UT