JHU questions Northern Tamils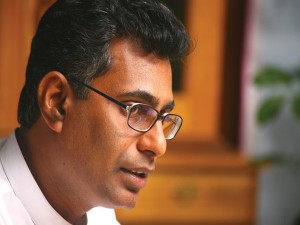 Minister Ranawaka:
Tamils are not a democratic community

The Jathika Hela Urumaya (JHU) claims the Tamils in the North did not vote out of their own free will at the provincial council elections.
JHU MP and government minister Champika Ranawaka said that the perception the Tamils did not get misled and voted democratically is misleading.
He claims the Tamils in the North who were once directed by the gun of LTTE leader Vellupillai Prabakaran had now been led by telephone calls they received from LTTE supporters overseas.

"We know the Tamil community is not democratic. Tamils do not vote freely. There is no ideology among the Tamil community. They vote based on the telephone calls they get from Toronto or Paris," he said.
He also accused Mannar Bishop Ryappu Joseph of carrying out a campaign against the Sinhales during the elections.
The Minister also accused India of creating communal divisions in Sri Lanka. He said Tamils had, soon after the war, not overwhelmingly backed the TNA.
However now the TNA votes increased owing to the intervention of the Indian central government and Tamils Nadu, the Minister said.
He also said the government must take part of the blame for the "dangerous" situation the country is now facing following the TNA win at the polls.
The Minister said the government could have prevented the situation but had allowed elections to take place under the existing constitution without making the amendments proposed by several political parties.
September 26, 2013
(Colombo Gazette)