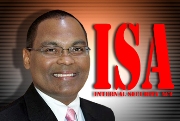 Prof. Rohan Gunaratna
"Responding to comments by Sarath Fonseka on military camps in the North and the East should be reduced, Prof. Gunaratna said the threat of terrorism being revived is very real because supportive political elements and LTTE proxies are still active in Sri Lanka, India and in a few other countries."

If military camps are dismantled in the North and the East, extremism and terrorism will return, international anti-terrorism expert Prof. Rohan Gunaratna warned yesterday.
Responding to comments by Sarath Fonseka on military camps in the North and the East should be reduced, Prof. Gunaratna said the threat of terrorism being revived is very real because supportive political elements and LTTE proxies are still active in Sri Lanka, India and in a few other countries.
"They have not abandoned the Tiger flag, Vellupillai Prabhakaran's image or the separatist goal," said Prof. Gunaratna, who heads the International Centre for Political Violence and Terrorism Research (ICPVTR) at Nanyang Technological Institute, Singapore.He said, "Due to the weak law and order situation, enforcement and intelligence, ideological extremism and terrorism grew in Jaffna and spread islandwide starting with Prabhakaran killing the Jaffna Mayor Alfred Duraiappah in 1975. Most Sri Lankans including Tamils do not want the military to withdraw for two reasons.
First, security. Ninety percent of the LTTE's victims were Tamils until 1983. Since then Tamils, Muslims and Sinhalese suffered gravely and Sri Lanka went back a quarter century. Although the LTTE has been dismantled in Sri Lanka, the LTTE maintains a significant presence in Tamil Nadu. LTTE ideologues and leaders who support terrorism including S.J. Emmanuel, V. Rudrakumaran and Nediywan are radicalising and militarising a new generation of Tamils. Through front, cover and sympathetic organisations, the LTTE is operating out of New York as TGTE, London as TGTE and In Norway as TCC.Second, the military has provided sustained support to the civilian population: building roads, refurbishing hospitals, renovating schools, improving livelihoods through farming fishery and agriculture assistance and donating blood."In the next decade, the greatest challenge facing Sri Lanka would be communal extremism propagated by LTTE remnants and their proxies, he said.
"The Government must continue to engage the Tamils and build a strong friendship with all communities especially in the North and the East. Military and intelligence must recruit more Tamils and learning Tamil must be made mandatory. The police have set an example by recruiting and deploying Tamils in the North and the East."
Earlier, British High Commissioner Rankin in a video posted on the High Commission website said, "We hope the military presence in the North and the East can resemble the level of the military presence in other parts of the country, rather than the very large military presence we continue to have at present."
A spokesman for the External Affairs Ministry said they were studying his comments.
The former Army Commander Fonseka too had voiced similar sentiments in an interview with a Tamil newspaper after his release. President Mahinda Rajapaksa told the nation on the third anniversary of the defeat of terrorism, that the military camps in the North and the East would not be removed as long as security considerations remain, in the backdrop of LTTE diaspora activity.
MOD