The villagers of Vinaayakapuram at Vettilaik-kea'ni of Vadamaraadchi East in Jaffna captured a Sri Lanka Navy (SLN) sailor, who had entered into the house of a former LTTE member and attempted to sexually abuse his wife in the early hours of Wednesday. The neighbours, who were alerted by the shouting of the woman around 1:00 a.m. rushed to the spot and captured the Sinhala-speaking man after chasing him for a while. The villages severely assaulted the culprit before handing him over to the SL Police with the demand of immediate remand. The villagers also provided the photograph of the captured SLN soldier to the media as the SL Navy was harassing them to get the man released without going to the courts.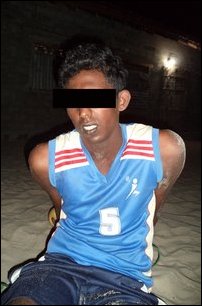 The SL Navy has been protecting the identity of rapist troopers, who abused young Tamil children at Kaarai-nakar in Jaffna recently.
The villagers at Vettilaik-kea'ni were therefore not prepared to simply hand over the culprit back to the SL military or to the SL police without ensuring the establishment of his identity and a legal remand in front of a judge.
The villagers, who said they had no faith in the Sri Lankan justice system, also urged media to publish the photos of the suspect.
The SL Navy assaulted the villagers for attacking their soldier. However, the villagers managed to hand over the captured SLN man to the SL police from Pazhai at the presence of civil witnesses.
The suspect was identified at Ki'inochchi District & Magistrate's Court and he has been remanded till 27 August.
The occupying SL soldiers enter into the houses and abuse the women when their husbands and brothers have gone to the seas for fishing during the night time in Vadamaraadchi East.
Tamil councillors from the Northern Provincial Council, K. Sivajilingam and S. Sugirthan have visited the village on Wednesday as the villagers were being threatened by the occupying SL Navy.
Some of the photos provided by the residents are being released by TamilNet blacking out the eyes of the suspect in the facial photographs.
TN