GTF deeply appreciates the humanitarian aid offered by the Tamil Nadu Government to all the peoples of Sri Lanka        
(Press release) The Global Tamil Forum (GTF) expresses its deep appreciation to Chief Minister Honourable M. K. Stalin for his consistent effort to provide humanitarian aid from Tamil Nadu to Sri Lanka. Last month Chief Minister Stalin had engagements with Honourable Prime Minister Modi and Honourable Minister of External Affairs S Jaishankar on this issue, and now the State Assembly has unanimously passed a resolution urging "the central government to positively consider the request of the Tamil Nadu Government to immediately send food and other essential commodities including lifesaving medicines from Tamil Nadu to the people of Sri Lanka, who are facing severe hardships". The State Government has decided to provide 40,000 tonnes of rice, 137 types of lifesaving drugs and 500 tonnes of milk powder for children, all valued at an estimated Indian Rs. 123 crore. Chief Minister Stalin indicated in his speech that this was only the first instalment and called on the Tamil Nadu people to contribute generously.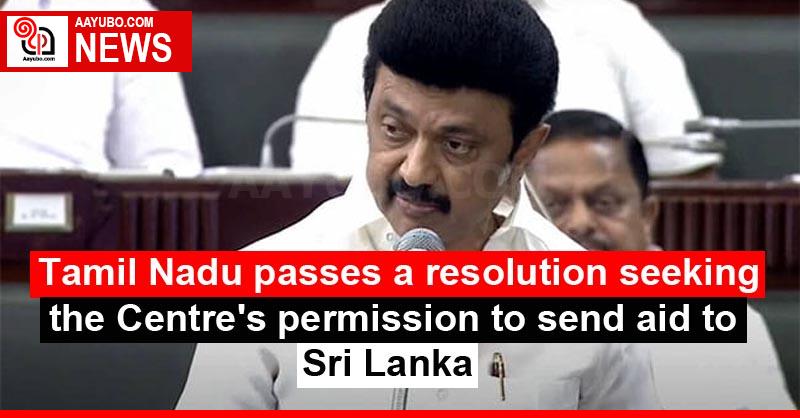 Chief Minister Stalin emphasised though he had initially announced to help Tamils in Sri Lanka, various leaders from the Tamil community in Sri Lanka had requested that the aid be not confined only to the Tamils and the assistance should be for all Sri Lankan citizens, "which moved me." He added, "I could not control my emotions on hearing this. This is Tamil culture."
GTF appreciates the many calls from the Tamils in Sri Lanka to extend Tamil Nadu aid to all deserving recipients irrespective of their ethnicity or religion, and particularly would like to acknowledge the highly publicised calls from the Tamil National Alliance Spokesperson Sumanthiran MP and Tamil Progressive Alliance Leader Mano Ganesan MP. We are also deeply touched by the generous spirit with which Chief Minister Stalin has acceded to these commendable requests.
GTF recognises the remarkable and hopeful developments taking place in Sri Lanka and their potential to trigger meaningful and long-lasting changes in the country. Any such changes have to include transitioning Sri Lanka into a truly pluralist state where no community will be left out of the governance arrangements.
GTF sincerely hopes that all communities in Sri Lanka recognise the generosity in spirit with which the issue of Tamil Nadu aid was dealt by the Tamil leaders from both sides of the Palk Strait.