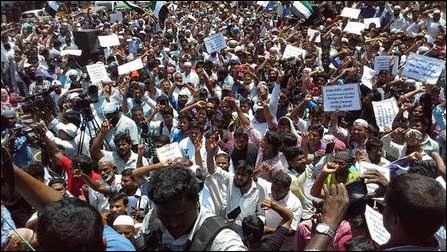 TMMK protest against anti-Muslim riots
On the 17th of June two Tamil Muslim organizations, the Tamil Nadu Thowheedh Jamaath (TNTJ) and Tamil Nadu Muslim Munneatta Kazhakam (TMMK) staged protests outside the Sri Lankan Deputy High Commission office at Nungambakkam protesting the recent anti Muslim riots in the Altuhagama and Beruwela in the island of Sri Lanka. While a section of the Muslim leaders in the Colombo parliament were avoiding any overt condemnation of the Sri Lankan state, the Muslims in Tamil Nadu vehemently condemned the SL State and the Sinhala Buddhist chauvinism.
Such a move was also reflected in what Asad Sally, the leader of the Muslim solidarity front told TamilNet on Tuesday.
The protest by TMMK in Chennai convened at 4:00 p.m. and well over 500 Muslims had gathered alongside with leaders of Tamil organisations to condemn the attacks on Tamil-speaking Muslims in the island. VCK leader Thriumavalan was among the leaders who attended.
The protestors demanded the immediate actions of the Indian central government against Colombo and also demanded the immediate closure of the Sri Lankan High Commission in India.
The protestors defied the police blockades and commenced to lay siege to the Sri Lankan Deputy High Commission office when the police intervened and detained the protesters.
The protest on the 17th was paralleled by protests held by Tamil speaking Muslims in Kaaththaan-kudi in the Eastern province on the 18th as well a solidarity protest convened by the Jaffna students in condemning the anti Muslim violence by the SL State.