Batticaloa-based Tamil journalist Selvakumar Nilanthan was interrogated by Sri Lankan's Terrorism Investigation Division (TID) today.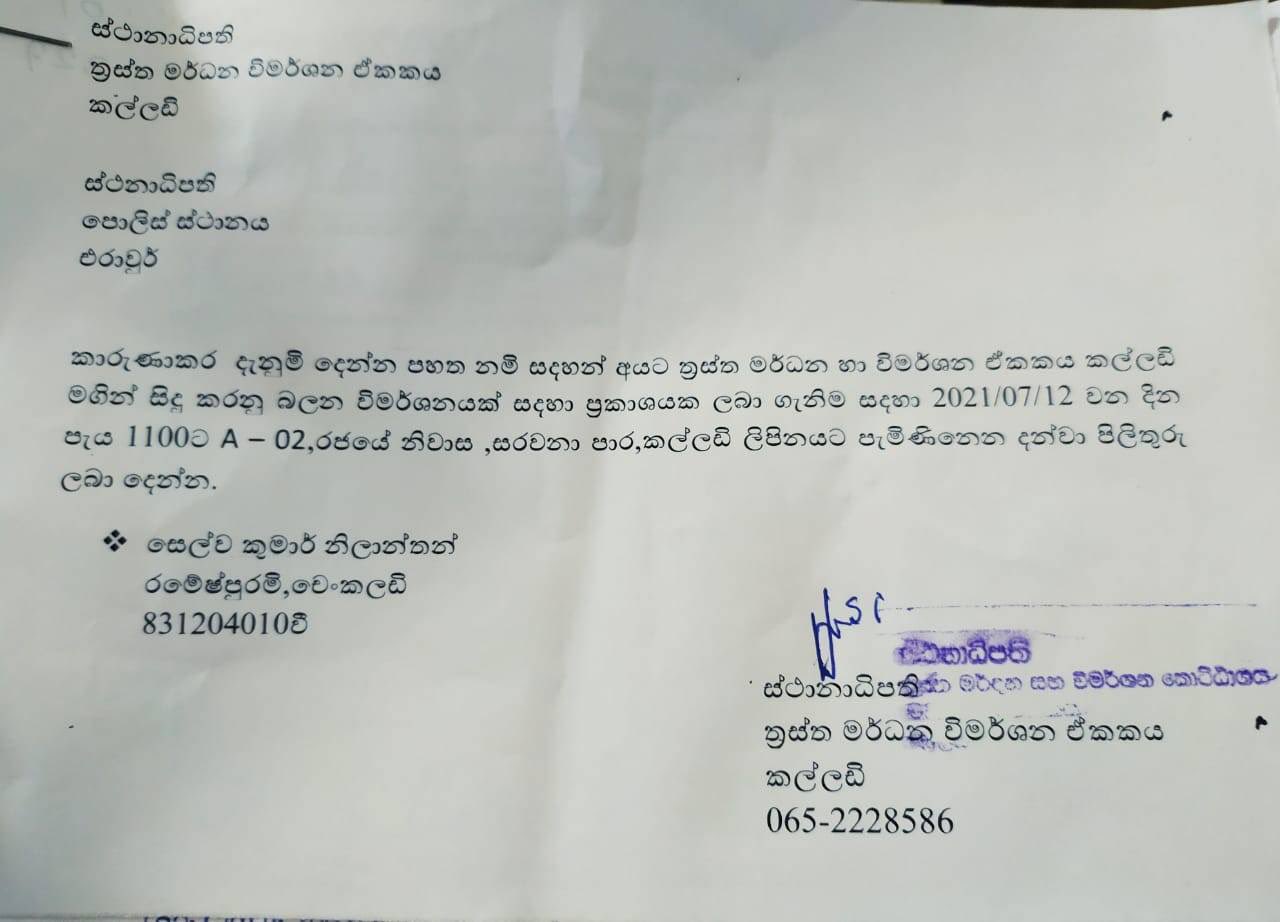 Nilanthan, who is also the secretary of the Batticaloa Tamil Journalists Association, was summoned to the Batticaloa TID this morning where his statement were taken following intense interrogation lasting around three hours. He was asked whether he had any links to the Liberation Tigers of Tamil Eelam (LTTE) and was questioned extensively about his work.
"Do you have any connection with the LTTE? Were you a member of the Liberation Tigers of Tamil Eelam (LTTE)? Were any of your relatives in the LTTE? Have you helped the LTTE? Have you got any affiliations or are you in contact with former Batticaloa political head, Thayamohan?"
"Do you run the Battinaatham or Meenagam website? How many years have you been a journalist? Which media outlets do you work for? Which international media outlets are you working for?"
The journalist was also demanded by the TID to disclose his personal and financial details. He was asked a significant amount of questions about his accounts and the passwords and told to give full access to his Facebook account, Whatsapp account, email account, bank account and other personal details.
Nilanthan was also examined extensively about his sourcing of funds:
"Do you get money from abroad? Which money comes from which country? Who is who and who sent you the money? Do you own a charitable trust?"
Following the investigation, the TID told Nilanthan that he may be expected to attend another investigation. Nilanthan, who was shaken and distressed from the investigation stated, "They robbed me of the last bit of freedom I had".
Selvakumar Nilanthan has previously been interrogated for his coverage across the North-East. Last year, he was probed for reporting on the military-assisted Sinhala settlements on Tamil cattle farmers' land and was also threatened and arrested for reporting on local government corruption.