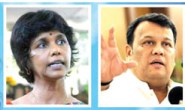 Tamara fights minister Samarasinghe
Sri Lanka has paid a heavy price for the lack of cohesion as it was essential to project an image of unity rather than that of discord as the country prepares for important appointments at the UN Human Rights Council, said Tamara Kunanayakam, Sri Lanka's Permanent Representative to the UN in Geneva.

She mentioned this in a May 1 datelined letter sent to External Affairs Minister G.L. Peiris rejecting an offer to be transferred to another station.
"Your proposal to move me out only nine months after assuming duties as PR in Geneva, will suggest instability in our diplomacy and an ad hoc character, when, in a multilateral Mission, it is essential to display cohesion, unity and stability if we are not to be continuously on the defensive. If I were to accept your proposal, Sri Lanka will be the only country to have had four Ambassadors in three years, which is normally the minimum period of postings for envoys of other countries," Ambassador Kunanayakam said. "Removing one of the very few Tamils heading diplomatic missions abroad will allow questioning of the bona fides of the Government's commitment to reconciliation, will reinforce extremist elements on all sides, and validate the argument that mine was only a token appointment."
She said it would convey the impression that those loyally carrying out instructions of the President and his Minister of External Affairs are being penalised precisely for this loyalty, whereas those responsible for compromising on principles, creating divisions, and undermining unity were rewarded.
Ambassador Kunanayakam expressed surprise at the proposal to transfer her given that it was only on April 23 that the Ministry of External Affairs, in a media statement, affirmed that no decision had been made to change the posts of officials of the Ministry or Missions abroad, or to transfer them.
She said under the present circumstances, it was unlikely that her transfer to Brazil or Cuba would be looked upon kindly by either Brasilia or Havana, which would not appreciate being viewed as punishment stations.
Ambassador Kunanayakam said the objective of the orchestrated campaign targeting those who defended positions of principle, initially Ambassador Dayan Jayatilleke and now encompassing others may be viewed as an effort to put Sri Lanka's diplomacy on the defensive.
"I believe I have acted consistently with loyalty toward our people and our country, and that I have worked on the basis of principles rather than devious schemes and maneuvers, pettiness, and mediocrity. Mine is not a personal agenda, and my motivations are not career, fame, or fortune related. I have carried out my duties conscientiously, with the best interests of the Sri Lankan people at heart and to the best of my abilities, placing at their service my long experience and knowledge of the UN System, more than 10 years of which was spent within the Office of the High Commissioner for Human Rights," she said. (Ayesha Zuhair)