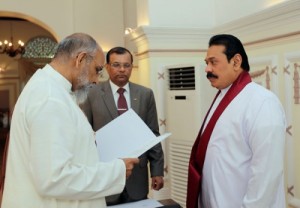 Internal self determination does not divide the country but facilitate a journey on the path of unity
"I expect my Sinhala brothers and sisters to impress upon their political representatives that internal self determination does not divide the country but facilitate a journey on the path of unity. I sincerely ask the Sinhala people to realize that to the same extent the Sinhala people cherish and respect their language and culture so do the Tamil speaking people cherish and respect their own language and their traditions. There is no place for violence in this realization. "

Full Text of Statement issued by the Chief Minister, Northern Provincial Council, after taking Oaths of Office

I took oaths a little while ago this morning undertaking to faithfully perform the functions of my office.
My office is a gift from my people. They have mandated me to perform my duties on a long term as well as a short term perspective. The former behoves us to confirm our individuality. To do so we have to learn lessons from our struggles of the past, our previous political perspectives and our past experiences and then forge ahead. It is the need of the hour that we remove the misunderstandings and doubts that have crept into the minds of various communities.
It is as a part of such an exercise that we decided that I take oaths before the President of this Country.We believe our decision would convey to our brethren our desire to settle our differences within a united Sri Lanka.
Our action today buttresses our close–up perspectives too, in that we expect to bring immediate relief to our war affected people. I hope the Sinhala people would endeavour to prod on their political representatives in every manner whatsoever to bring sunshine into the lives of our disturbed and affected Tamil speaking people.
I expect my Sinhala brothers and sisters to impress upon their political representatives that internal self determination does not divide the country but facilitate a journey on the path of unity. I sincerely ask the Sinhala people to realize that to the same extent the Sinhala people cherish and respect their language and culture so do the Tamil speaking people cherish and respect their own language and their traditions. There is no place for violence in this realization. None could force such realization. It is such sincere realization that would take us all on the path of peace and brotherhood. Therefore let my simple symbolic act today pave the way for the unity of the people of the two communities in our Island.
May Divine blessings be with all of us!
Justice C.V.Wigneswaran
Chief Minister, Northern Provincial Council
DBS