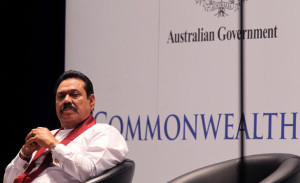 Rajapaksa at the Commonwealth Business Forum
Years after Sri Lanka's bitter civil war ended in a bloodbath, we still don't know the half of what went on in the final horrific days.
According to the United Nations, "tens of thousands" died in 2008-2009 as government forces crushed a Tamil Tiger rebellion.
The army "systematically" shelled UN facilities, areas where 330,000 civilians were huddled, hospitals and food lines, a UN panel found. The rebels, in turn, used civilians as shields. There are "credible allegations," the UN said, of point-blank executions, torture, rape and other war crimes by both sides.
Nor has President Mahinda Rajapaksa's triumphalist government held a credible probe, or honoured promises to give Tamils "substantive" regional autonomy, stronger minority rights and a fair share of jobs in the civil service and military. A "deeply flawed" postwar reconciliation commission is a sham, the UN concluded.
Given this ghastly record, Prime Minister Stephen Harper deserves credit for making Sri Lanka an issue at the Commonwealth summit in Perth, Australia, this week. It's discouraging that Rajapaksa is slated to host the next summit in 2013. The Commonwealth, comprising more than 2 billion people in 54 nations, prides itself on upholding democracy, human dignity and equality. Sri Lanka's abuse of its own citizens, and its refusal to be held accountable, rules it out as an appropriate venue. There are better options.
Harper plans to boycott the next summit "if we do not see progress in Sri Lanka in terms of human rights and other issues," and he hopes others will do the same. The Commonwealth must affirm its relevance by pushing for a credible probe, and a better deal for Tamils.
Harper's activism is especially timely, given that the summit agenda included adopting a Commonwealth charter that will embody its values and, more controversially, creating a commissioner for democracy, the rule of law and human rights.
To Harper's credit this is not the first time he has displayed moral leadership at a summit. In 2007 he lobbied, successfully, to suspend Gen. Pervez Musharraf's military regime in Pakistan for subverting democracy. Pakistan is a democracy today.
This readiness to call out those who flagrantly betray Commonwealth values brings to mind Brian Mulroney's successful campaign in 1986 for sweeping sanctions against South Africa's apartheid-era regime. It, too, is now a democracy.
There are other rights offenders in the club, to be sure. But Sri Lanka is in a class of its own. Harper was right to take a stand.
TONY ASHBY/AFP/GETTY IMAGES
AFP