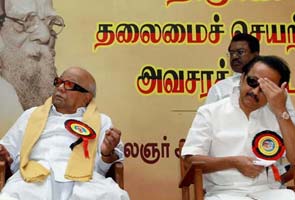 No other way of showing anger:
TKS Elangovan on Tamil sentiment on Sri Lanka
"At the same time, we believe that India, by proposing a resolution seeking UN's intervention, will put an end to the present situation (of Tamils' alleged hardships) and enable them choose their rights," it said, adding India should take all efforts in this regard.
Later, speaking to reporters, Karunanidhi called for more cooperation from the Centre to address the grievances of the ethnic Tamils, alleging they had perennially been at the receiving end of the Sinhalese.

"There is information that it is not satisfactory," he said when asked if he was satisfied with India's rehabilitation measures for the Tamils.
India has taken up among others, housing projects for the
Internally Displaced Tamils in the island nation with some of them being handed over to the beneficiaries on Tuesday.
Karunanidhi, who had led a TESO conference here on Aug 12, 2012, said the resolutions adopted in that meeting will be handed over to the UN by his party Treasurer MK Stalin and DMK MP TR Baalu.
An appointment had been sought from the UN Secretary General and dates for the visit would be finalised after that, he added.
Asked about India extending a red carpet welcome to Sri Lankan President Mahinda Rajapakse during his recent visit, Karunanidhi said it was a matter of protocol and added "the determination (to break) cannot be expected of all."
He recalled that he, as Chief Minister, had boycotted a reception accorded to Indian Peacekeeping Force (IPKF) upon its return from Sri Lanka.
IPKF has often been charged with various excesses against Tamils when it went on a peace-keeping mission during the civil war in the island nation.
Karunanidhi said the representatives would also submit petitions on other issues, including alleged militarisation of Tamil-speaking areas in Sri Lanka.
On his party's October 5 'human chain' protest against the ruling AIADMK, he said permission had been sought for three routes and expressed hope that police would give it, considering it would not be a march or rally.
NDTV