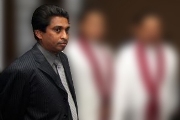 M.P. Sri Ranga, ruling coalition
The General Secretary of the People's Front J.Sri Ranga says that, at a time where numerous view have been expressed regarding the visit of the Indian Defence Adviser, Shivshankar Menon, suspicions have
arisen among the Tamil community.

The release issued by Parliamentarian Ranga points out that The Hindu newspaper and the Tamil national newspapers have published contradicting news reports regarding the visit of the Defence Adviser.
According to J.Sri. Ranga, The Hindu newspaper has reported that when journalists posed a question as to whether Menon is satisfied with the procedure used to solve the national problems in Sri Lanka, he stated that India will always come forward for the unity and the integrity of Sri Lanka.
Quoting the Indian Defence Adviser, The Hindu has reported that India believes in a united Sri Lanka where all groups should be able to live a fulfilling life.
The Parliamentarian's release states that The Hindu further quoted Menon as saying that it is the Sri Lankan government itself which should find a solution for the national problem.
He has further noted that a solution cannot be arrived at through Indian influence.
The Hindu has also reported that Shivshankar Menon said that even though they could support a solution for Sri Lanka's national problem, they are unable to influence the solution.
Meanwhile, the release notes that the Tamil National Alliance Parliamentarian R.Sampanthan had told a Tamil national newspaper that Menon elaborated that India will not allow further delay in the process of finding a solution and providing a permanent solution to the Tamil community.
The release further notes that if Menon discussed the problems of the Tamil community, in accordance with the statement made by Sampanthan, disregarding the fact that the government which received a large sum of money from the Indian Government for the Palali Air Base, subsequently took over more than 100 acres of land in Sampur which it had granted to an Indian investor, then this statement must be appreciated.
The release points out that suspicion has arisen among the Tamil community as to what is causing the delay in the process of finding a solution to the national problem through discussion when both the
government and R. Sampanthan have stated that they were satisfied with Menon's visit to the island..
In his release he further states that the Tamil community is questioning as to why the implementation of the Indo-Lanka accord is being delayed
NF