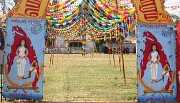 Leader of Opposition in the Lok Sabha Sushma Swaraj on Thursday criticised the demand for a separate 'Tamil Eelam' by some political parties in Tamil Nadu, even though the Tamil National Alliance (TNA) — the main political force of the Tamils in the island nation — favoured a genuine political solution within a united Sri Lanka.

Addressing the fifth State conference of the Bharatiya Janata Party (BJP) here, she said the TNA leader, R. Sampanthan, whom she met as leader of a parliamentary delegation that went to Sri Lanka recently to study the Tamils' issue, emphasised that he wanted the Tamils to remain within a united Sri Lanka. He insisted only on a genuine political settlement.
Mr. Sampanthan was for a political settlement that would ensure equal rights and a dignified life for the Tamils, devolution of power and implementation of recommendations of the Lessons Learnt and Reconciliation Commission. "When such a respected leader of the Tamils was for a political solution within a united Sri Lanka, why are some parties here raising the separatist issue?" she asked. She insisted that the unity and integrity of Sri Lanka be respected the way India's unity and integrity were respected.
Ms. Swaraj took a dig at both the Dravida Munnetra Kazhagam and the All India Anna Dravida Munnetra Kazhagam for having withdrawn their representatives from the parliamentary panel that visited Sri Lanka. Asserting that it was not a picnic for the MPs, she said the panel insisted on visiting the internally displaced people who were kept in camps. "We told them that their visit would have no purpose at all, if they were not allowed to meet the affected Tamils," she said.
The panel visited the affected people and interacted with them without any interference from the Sri Lankan officials, she said and added that the people revealed all their problems without any hesitation.
"We have made it clear to Sri Lankan President Mahinda Rajapaksa that it is not just Tamil Nadu that is bothered about the plight of Sri Lankan Tamils, but the entire nation was concerned about them," she said.
Regretting that a newspaper had belittled the visit by carrying a photograph of Ms. Swaraj receiving a gift from the Sri Lankan President, she said the Indian panel had to show some diplomatic courtesy. "I received it as a representative of the country and not as an individual. The gifts have been deposited with the parliamentary treasury. I have not taken it," she said.
Senior party leader L.K. Advani said India could become a superpower only when there was good governance that promoted welfare of the common man and ensured the security of the country in all aspects.
Tracing the evolution of the party, he said from being one of the four recognised political parties after the 1952 general elections, it had grown to become a strong alternative force to the Congress. "Any party, like an army fighting a battle, should have besides good general and commanders, a sound strategy and a clear vision." The party had fought the denial of equal rights for Indian citizens in Jammu and Kashmir as guaranteed by the Constitution. Later, the BJP formed a strategy to fight the mighty congress that was posing danger to democracy. "We sought support from all the non-Congress parties," he said. On the strategy that worked for the success of the party, he said the yatras taken out by party leaders contributed a lot.
S. Sundar
The Hindu