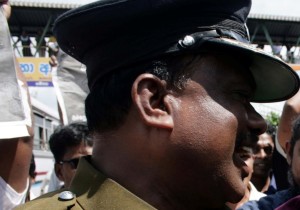 SSP Ranagala
The Supreme Court has decided to hear the fundamental rights petition filed by Sri Lanka Muslim Congress (SLMC) members claiming theri right to equality was violated by a senior police officer during the campaign for he Eastern Provincial Council (EPC).
The Bench comprising Chief Justice Shirani Bandaranayake and Justices K. Sripavan and Eva Wanasundera fixed the hearing for March 25.

The petitioners, SLMC General Secretary and Parliamentarian Hassan Ali, SLMC High Command member and Akkaraippattu Municipal Councillor S.L.M. Hanifa and SLMC Ampara District candidate A.T. Thavam, cited Ampara SSP Premalal Ranagala, Ampara DIG T.K.P. Silva, ASP Sarath Premalal of the Police Training School, Pallekele, OIC Akkaraipattu Police, the IGP, the Elections Commissioner and the Attorney General as respondents.
Appearing for the petitioners, President's Counsel Jayampathi Wickramaratna told Court the petition was filed before the EPC election was held on September 8.
The President's Counsel said the first respondent SSP Ranagala, failed to carry out his duty fairly as a public officer and wrongfully favoured the campaign of the National Congress Party (NCP) headed by Minister A.L.M. Athaulla, whose party also contested the EPC election under the United People's Freedom Alliance (UPFA).
The President's Counsel said SSP Ranagala, while conducting himself in a partisan manner towards Minister Athaullah and the National Congress had acted with hostility to the SLMC candidates and their supporters.
He cited a number of instances where the police acting under instructions from SSP Ranagala failed to take any steps to arrest persons who armed with weapons, terrorized, threatened and attacked the petitioners and their supporters regardless of their complaints to the Police.
The illegal actions of the first respondent clearly interfered with the holding of a free and fair election, counsel argued.
Dr. Jayampathi Wickramaratne, Nizam Kariapper, A.M. Faiz, M.C.M. Nawaz and M.I.M. Inulla appeared for the petitioners.
By Wasantha Ramanayake
ST