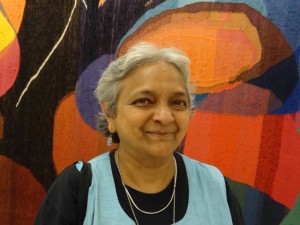 We are writing to ask you to join a solidarity effort for our dear friend Sunila Abeysekera, a leading women's human rights defender, who is in a life struggle with cancer.
Sunila has been a lifelong feminist and human rights activist in Sri Lanka and South Asia, and a major player in the global women's movement (see bio below). She is currently based at the Institute for Social Studies in The Netherlands as the recipient of a Scholars At Risk fellowship. These fellowships are awarded to individuals who face potential violence in their own country as a result of their human rights work.
Sunila has lived a courageous life on the forefront of many social movements, fighting relentlessly for justice and human rights–for women and on behalf of all those who experience identity-based discrimination, persecution and marginalization. She has nurtured and supported countless women and men of all ages the world over, inspiring many-both directly and by example-to challenge abusive authority at the local, national and international levels.
Sunila was diagnosed with late stage cancer in the Netherlands in November 2012 and has been receiving treatment there. At this point she is weighing options about where to receive treatment–likely in South Asia. She faces the prospect of significant-and possibly protracted-uncovered medical, travel and living costs in this fight for her life. What Sunila is facing now is the lot of many other activists–whose lives fighting for social justice often precludes their ability to focus on their own well-being and financial security.
We are reaching out to Sunila's beloved community of friends and colleagues around the world to ensure that cost is not an obstacle preventing her from getting the best care possible. It is difficult to know exactly how much will be needed, but we are seeking to raise US $25,000 this month to ensure she does not have to worry about the expenses. She has given to the world, now it's time to give to her.
Kamla Bhasin, Charlotte Bunch, Roxanna Carrillo, Amrita Chhachhi,
Susanna George, Kumi Samuel
Sunila Abeysekera's unique and highly valued work on feminism and human rights is based on her combination of grounded local involvement in Sri Lanka, significant contributions to struggles in the Asia Pacific region, and international advocacy.
Over the past 40 years, Sunila has been deeply committed to seeking justice and redress for human rights abuses in Sri Lanka as well as globally. Her work places a special emphasis on gender and peace building and has included documenting the impact of conflict on civilians, introducing nonviolent strategies of conflict transformation and challenging impunity to hold perpetrators accountable [http://www.opendemocracy.net/5050/sunila-abeysekera/brutal-manifestation-of-patriarchy]. She also addressed a broad range of other issues, ranging from violence against women to sexual and reproductive rights, including the rights of communities such as sex workers, people living with HIV/AIDS, and lesbian, gay, and transgender people.
Sunila began her work as a Human Rights Defender in the mid 1970s as part of Sri Lanka's first autonomous human rights organization – the Civil Rights Movement (CRM) – a nonpartisan, interethnic organization set up to protect the rights of young men and women who led the 1971 youth movement. Since the late 1970s, she has been a key member of numerous civil society groups as a feminist leader, an advocate, a resource person and a trainer.
In 1984, Sunila founded the Women and Media Collective in Colombo, through which she played a critical role in shaping feminist thinking in South Asia while at the same time strengthening solidarity and mobilising feminist activism in a wide range of struggles – from women's rights in the Free-Trade Zone to equal wages for women workers in the tea plantations. She was a founder of Sri Lanka's Pacific and Asia Women's Forum and also mobilized in support of the Mothers' Front to stand against state repression while helping to build Women for Peace to advocate for a political solution to the ethnic conflict in Sri Lanka.
As state repression and acts of terror by armed opposition groups increased in Sri Lanka, in 1990 Sunila took over the leadership of INFORM Human Rights Documentation Centre, a leading institution committed to monitoring and documenting human rights violations perpetrated by both state and non-state entities. In the 1990s, she was also the president of the Movement for Interracial Justice and Equality in Sri Lanka, and a member of the Executive Committee of the Movement for Free and Fair Elections. Throughout the protracted conflict in Sri Lanka, Sunila continued to work across deep ethnic divides and to insist on a politically negotiated settlement to the country's ethnic conflict.
Sunila has brought to her local and national activism an international perspective, making friends and linkages and building solidarities with feminists and struggles across borders – from Peru to Indonesia, from India to the USA, and from Mexico to Nairobi.
In the Asia-Pacific region, she has been closely associated with APWLD (Asia Pacific Forum on Women Law and Development), SANGAT (South Asian Network of Gender Activists and Trainers), Forum Asia (Asian Forum for Human Rights and Development) and served as Executive Director of the International Women's Rights Action Watch Asia Pacific (IWRAW-AP) from 2008 to 2010.
In the international arena, Sunila played a crucial role in the global feminist campaign that led to the recognition that women's rights are human rights at the UN World Conference on Human Rights in Vienna in 1993, and at other UN World Conferences in the 1990s and especially the Beijing World Conference on Women in 1995 [http://www.opendemocracy.net/5050/sunila-abeysekera/challenging-ourselves-at-beijing-15]. She engaged in debates around the Rome Statute of the International Criminal Court to ensure inclusion of gender perspectives and worked on implementation of the UN Security Council Resolution 1325 (on women's participation in peace negotiations and in post-conflict reconstruction). She was a member of the Global Civil Society Advisory Board to the UN Development Program (UNDP), and is a member of the Women, Peace and Security Expert Group convened by UN Women in South Asia.
In the mid-2000s, Sunila was a key organizer in building the Women Human Rights Defenders International Coalition, an advocacy network that raises the visibility of gender in work for defenders, creates support for them and documents the violations they face. She was a member of the coordinating committee of the Feminist Dialogues at various World Social Forums, an initiative that facilitated feminist advocates meeting transnationally.
In 2002, she joined the feminist International Initiative on Justice in Gujarat, India, working with Indian feminists to seek redress for women from Muslim communities, victimized during the Gujarat carnage. She worked with women human rights defenders in many places including the Indian Northeast, Uganda, and Timor Leste. In the aftermath of the South Asian tsunami, Sunila was intensely involved ensuring that women's needs were addressed in the humanitarian crisis facing the region. Sunila served on the Board of Urgent Action Fund for Women's Human Rights from 2005 to 2012 and, until recently, was its Chair.
Sunila's invaluable contributions as one of South Asia's preeminent human rights activists have been recognized internationally. In 1998, she received the UN Secretary General's Award for Human Rights from Kofi Annan. She was honoured by Human Rights Watch, with its Human Rights Defender Award in 2007. She was also nominated in 2005 as one of the One Thousand Women for the Nobel Peace Prize http://www.1000peacewomen.org/eng/friedensfrauen_biographien_gefunden.php?WomenID=1049 ]
A single mother, Sunila humorously noted on receiving the UN Human Rights Prize from Kofi Annan that "At last my children will see that what I do is recognized as worthwhile!" Sunila's unique brand of human rights activism, nationally and internationally, has been paralleled by a creative life in the fields of cinema, theatre, music and literary criticism.
Her work highlighting state and non-state violations during the last years of Sri Lanka's ethnic war in 2009/2010 compelled Sunila to leave the country again, and she is currently affiliated with the Institute for Social Studies in the Netherlands as a "Scholar at Risk."
http://www.youcaring.com/medical-fundraiser/sunila-has-given-to-the-world-now-it-s-time-to-give-to-her-/60250