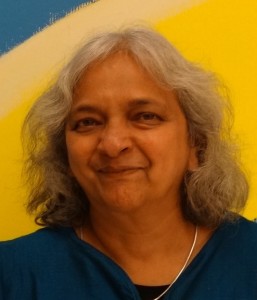 Sunila Abeysekera at UNHRC Geneva, Nov 2012
Sunila Abeysekera was an extraordinary human rights campaigner who has won several awards. She was born in 1952 in Sri Lanka and has worked on women's and human rights issues in Sri Lanka, South Asia region for over 35 years as an activist and a scholar.
Her life as a young human rights activist began in 1970s working for the release of thousands of youth imprisoned due the insurrection of 1971.

She was the pioneer of establishing Human Rights Organization ( HRO) in late 70s.
In early 80s, Sunila played a key role in bringing together number of women's groups to one platform called Women's Action Committee and later in creating the Mothers and Daughters of Lanka. Her ideological contribution to immerging women's movement was immense.
In 1989, Sunila helped establish INFORM, which documented human rights' abuses at a time when repression and terror in Sri Lanka peaked. By bringing it before the international community, she played a critical role in seeking redress for human rights' abuses. Since the late 1970s, she has been a key member of civil society groups working for a negotiated solution to the conflict.
Since 1992 Abeysekera had been working with the Global Campaign for Women's Human Rights and has been actively working in lobbying at all the UN Conferences since then — 1993 in Vienna and 1995 in Beijing — focusing on the issue of mainstreaming women's human rights concerns within the international human rights system.
In 1994 she received an M.A. in Women and Development from the Institute of Social Studies in the Hague, Netherlands, and won that year's award for the best research paper.
She became the president of the Movement for Justice and Equality in late 1999 and worked with activists belonging to all ethnic groups in Sri Lanka.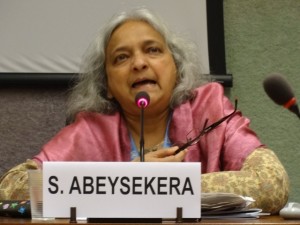 Sunila speaking at a side event at UNHRC Nov. 2012 re UPR Sri Lanka
Secretary General Kofi Annan presented Abeysekera with a UN human rights award in 1999. She was also honoured for her work by the Human Rights Watch.
Sunila's most effective contribution to women's rights and human rights is through her work at bridging the divide between these two areas. She prepared short and easy-to-understand pamphlets in Sinhala. She has worked with women's groups and social activists on ways to introduce basic concepts of nonviolent ways of conflict resolution, focusing on a feminist perspective on the issues of militarization, conflict, conflict transformation and peace-building.
Human rights in Sri Lanka has been a major issue since the 1970s, as successive governments responded to youth militancy in the South, and North, with repressive legislation, arbitrary arrest and detention, torture and curbs on the freedom of expression, including censorship.
Since early 90s she has been a member of the Free Media Movement and was in the forefront of struggle for the freedom of expression rights in Sri Lanka.
"When I started working on human rights two decades ago, it was not easy," Abeysekera said. "One is regarded as a troublemaker, sometimes as a traitor. Questioning the role of the government and of the different political actors in destroying democratic structures and creating a militaristic environment led to attacks from all sides ", she once told Human Rights Watch.
Sunila believes that her biggest challenge has been to combine single parenting with her activism. Her comment on receiving the UN Human Rights Prize from Kofi Annan was, "At last my children will see that what I do is recognized as worthwhile!"
With a rare ability to act as researcher, advocate, and spokesperson both within Sri Lanka and abroad, Sunila was internationally recognized as one of Sri Lanka's preeminent human rights activists. In a war driven by ethnic tensions, she refused to take sides, denouncing abuses by both the government and armed separatist Tamil Tigers. Her neutrality and fierce commitment had won Abeysekera the respect of Sinhalese and Tamils alike. She had faced death threats for her work in an environment that had become increasingly difficult for human rights defenders, but remained steadfast in her work.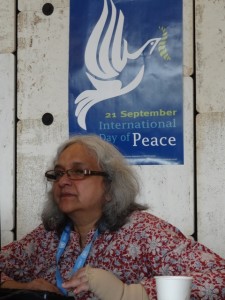 Sunila at UNHRC Nov 2012
As executive director of INFORM, a nongovernmental human rights monitoring organization, Sunila fought to expose serious abuses and bring institutional change. For decades, Sunila struggled against the entrenched culture of impunity to hold perpetrators accountable for enforced disappearances, killings of civilians of all ethnicities, violence against women, and the protection of those displaced by the armed conflict
Sunila lived a courageous life on the forefront of many social movements, fighting relentlessly for justice and human rights–for women and on behalf of all those who experience identity-based discrimination, persecution and marginalization. She has nurtured and supported countless women and men of all ages the world over, inspiring many-both directly and by example-to challenge abusive authority at the local, national and international levels.
Sunila was diagnosed with late stage cancer in November 2012 and passed away peacefully on 09th September 2013.
The funeral will be on Wednesday the 11th at Maharagama, close to Colombo, Sri Lanka.
Her home address is 54, Shiromani Mawatha, Piliyandala road, Maharagama, Sri Lanka.
Photos: Sunanda Deshapriya
– Compiled by SriLanka Brief form published and unpublished material